HAIR TREATMENT 101 – 8 BEST HAIR TREATMENTS FOR HAIR LOSS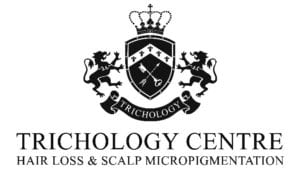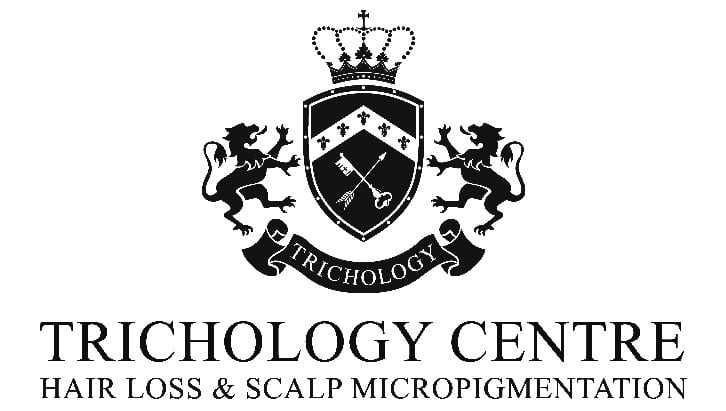 FREE ONLINE HAIR LOSS ASSESSMENT FORM
What is the best hair treatment for alopecia?
When it comes to hair and hair loss, there are thousands of hair treatment procedures and hair loss products on the market all claiming to regrow your hair, so what works and what doesn't?  In this article we will go over the top 8 hair loss remedies that have proven to work on androgenetic alopecia, the most common hair loss condition in both men and women.
What is androgenetic alopecia?
Androgenetic alopecia (AGA) is the most common hair loss condition in both men and women. It is caused by the action of the hormones called androgens. In men, it is often called male pattern hair loss (MPHL), and female pattern hair loss (FPHL) in women.
Characteristics of MPHL in men include a receding hair line and/or loss of hair on the crown of the scalp. FPHL in women presents itself as a diffused hair loss thinning throughout the scalp.
The main cause of AGA is dihydrotestosterone or DHT, which is created from testosterone.  DHT is a sex hormone that interferes with the hair's growth cycle, shortening and shrinking the hair, making it easier for hairs to fall out and harder for it to grow back.  Men have more testosterone than women, which may be a reason why there is more hair loss in men.
Understanding what causes androgenetic alopecia is important for treating the early signs of MPHL and FPHL so you can slow or stop the balding.
FINASTERIDE – What Does A Finasteride Do?
Finasteride is an FDA approved drug for androgenetic alopecia. It was originally used to treat BPH, enlargement of the prostate gland. Finasteride is in a drug class called 5-alpha reductase inhibitors. It treats androgenetic alopecia by blocking the body's production of the male hormone in the scalp that stops hair growth.
Are there side effects to finasteride?
Men taking finasteride may experience libido issues such as a decreased in sex drive and problem getting or maintaining an erection (impotence).  Other side effects include cold sweats, chills, confusion, and dizziness.  Other side effects not listed may also occur in some patients.  Side effects may go away by itself as your body adjusts to the medicine, however if they persist, medical attention should be taken.
Is finasteride good for men?
Finasteride has been shown to be an effective DHT blocker, the enzyme associated with androgenetic alopecia. About 90% of men taking finasteride maintained their hair or saw improvement in hair growth. However, due do the negative side affected associated with it, there may be other better options in treating androgenetic alopecia.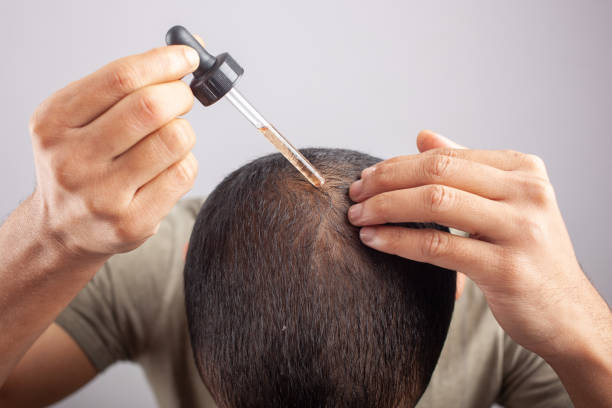 Minoxidil – What is Minoxidil Hair Treatment?
Monixidil is the other FDA drug approved for androgenetic hair loss. Monixidil is a antihypertensive vasodilator medication used for the treatment of high blood pressure and MPHL and FPHL.  It was discovered in 1987 that Monixidil was effective in treating both men and female hair loss.
Monixidil comes in lotion and foam versions. A scalp enzyme called sulfotransferase converts the minoxidil into a salt called minoxidil sulfate.  Minoxidil works by shortening the telogen (resting phase) of the hair and causing the hair to enter the anagen (growth stage) faster. The result is a faster hair cycle, with the resting and shedding hairs moving faster into the anagen phase and stimulating new hair growth.
Are there side effects to monixidil?
Side effects to monixidil include facial hair growth, burning of scalp, acne, increased hair loss, inflammation at the root of hair, reddened skin and swelling of face. Serious side affects are rare however if you develop symptoms of a serious allergic reaction, including itching/swelling, rash, dizziness, and trouble breathing, get immediate medical help.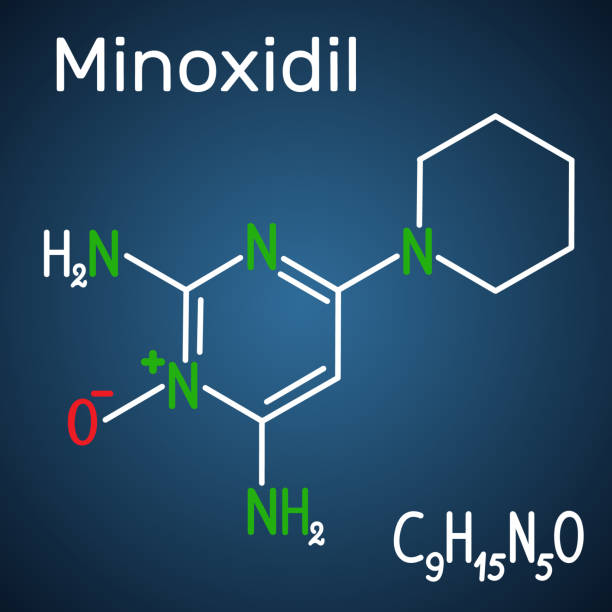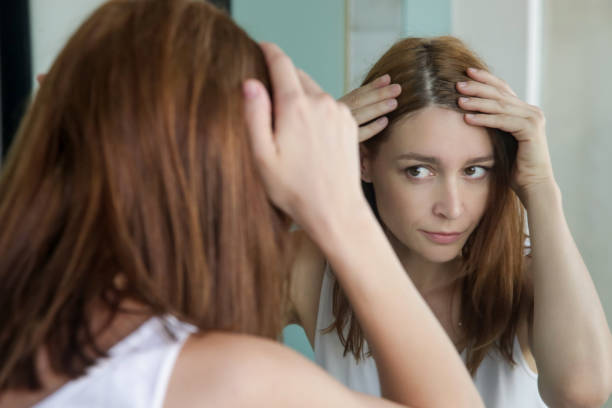 Is monixidil effective for hair loss?
Monixidil works for 2 out of 3 men, so 1 out of 3 men will not benefit from using it. It is more effective if you are in the beginning stages of hair loss and under 40 years old.
PRP stands for platelet-rich plasma.  PRP injections is gaining popularity as a hair loss treatment. The treatment involves taking your own blood. Your blood is composed of plasma (the liquid portion of blood), and platelets (blood cells that play an important role in healing throughout your body). Your blood is spun in a centrifuge machine, separating the platelets. The platelets which offer many growth factors is injected back into your scalp to stimulate hair regrowth.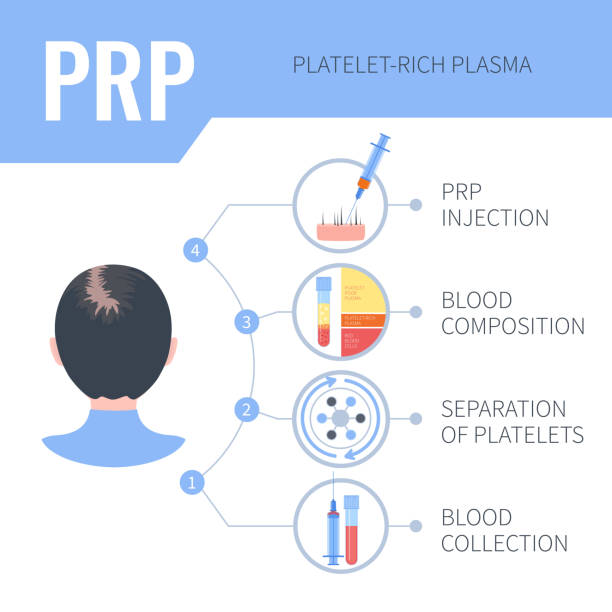 PRP is an effective treatment for androgenetic alopecia. In one study "Khatu et al. [3] reported a significant reduction in hair loss between first and fourth PRP injection in a group of 11 male patients affected by androgenic alopecia. In this study, hair count increased from average number of 71 hair follicular units to 93 hair follicular units. Therefore, the average mean gain was 22.09 follicular units per cm2."
"After four PRP treatments, they had about 30% more growth in thinning areas. A 2017 study out of Italy also found male patients had increased hair and density in areas where doctors used PRP therapy. Dr. Khetarpal says it takes about three months to see an improvement."
There is no cure for hair loss, only maintenance. That said, PRP is a long-lasting hair treatment. After your initial treatments, you can maintain your good results with annual or semi-annual follow-up treatments.
How much is PRP hair treatment?
At our hair loss clinic, we offer PRP treatments at $597 per session. With combined package deals, the price can come down to at low as $399. Please contact us for the current PRP specials for hair loss.
What is AAPE hair treatment?
AAPE is a solution made up of Advanced Adipose-Derived Stems Cell Protein Extract. The solution's adipose or fat tissue content contains large numbers of mesenchymal stem cells (MSC) which are located within the stromal vascular fraction (SVF) which provides powerful regenerative stem and stromal cells, growth factors, and progenitor cells and many other effective biologic components that work to regenerate hair regrowth.
AAPE® is the first product based on stem cell described in SCI journals with clinical results in humans.
Exosomes from human adipose derived stem cells promote proliferation and migration of skin fibroblasts.
AAPE has over 600,000 clinical treatments used by over 3,000 dermatologists in more than 30 countries worldwide.
In Japan, over 200 clinics are using AAPE with a clinical hair program for hair regrowth. The brand AAPE is approved by dermatologists and medical professionals from Korea, Japan and USA.
Adipose-derived stem cell-conditioned medium is rich in growth factors such as vascular endothelial growth factor, hepatocyte growth factor, platelet-derived growth factor, and insulin-like growth factor 1.
Numerous research papers in the hair growth field using Adipose-Derived Stem Cells. Papers related to ADSCs and hair on PubMed.
Treatment using adipose-derived stem cell-conditioned medium appears highly effective for alopecia and may represent a new therapy for hair regeneration. Hair Regeneration Treatment Using Adipose-Derived Stem Cell Conditioned Medium – Hirotaro Fukuoka, MD, PhD, and Hirotaka Suga, MD, PhD.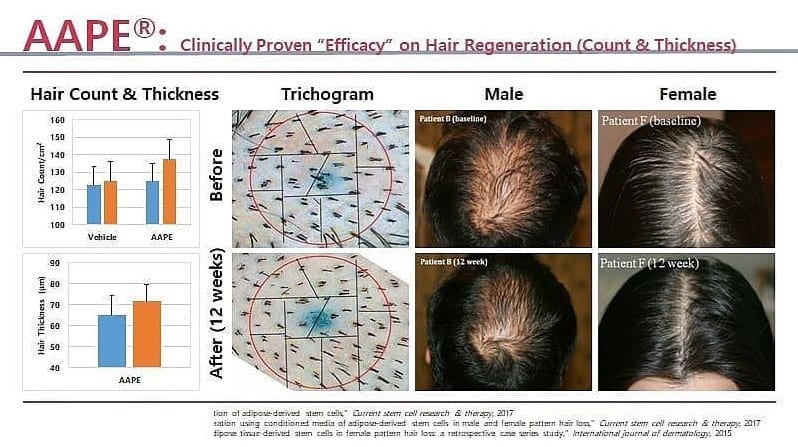 Laser Therapy – Is laser therapy effective for hair loss?
Low-level laser therapy (LLLT), also known as red light therapy, and cold laser therapy, has been growing in popularity as an effective hair loss treatment.  The treatment involves a red light that irradiates photons into the scalp. These photons are absorbed by weak cells which invigorate circulation and stimulation that encourages hair growth.
"A 2013 trusted source study of 41 males ages 18 to 48 found that laser hair treatment provided a 39 percent increase in hair growth over a period of 16 weeks."
What are the benefits of LLLT?
Laser therapy increases hair strength, is non-invasive, painless, and has no side effects.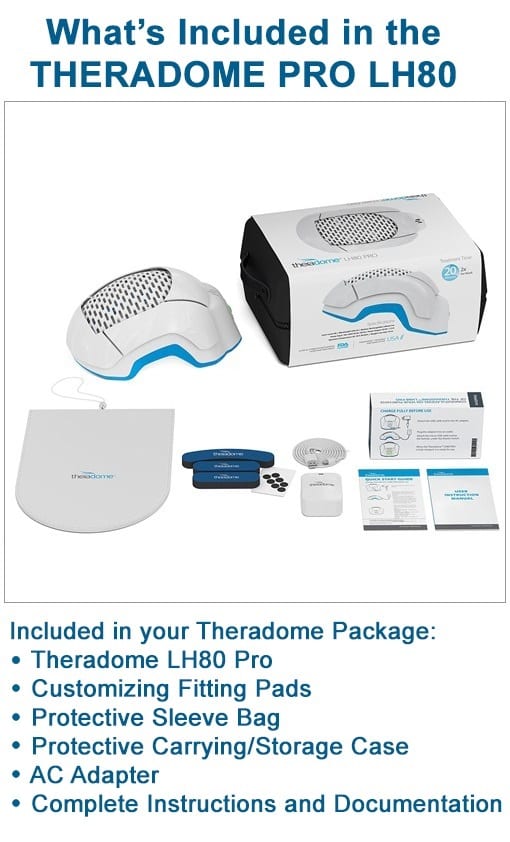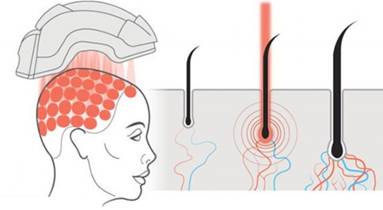 What is the Theradome™ Laser Helmet?
At our Trichology Centre, we have chosen the Theradome LH80 PRO helmet as the best device for laser hair loss therapy.  The Theradome™ laser hair helmet provides next-generation, clinical strength laser hair technology for effective, safe, laser hair growth treatments at home.  The Theradome delivers the same wavelength and dosage of energy proven to rejuvenate hair follicles, reduce hair loss, and effectively regrow hair without overheating.
Microneedling – What is microneedling?
Microneedling is a cosmetic treatment where tiny puncture holes are created in the skin with a group of tiny, sterilized needles.  The small wounds cause your body to produce more collagen and elastin, the building blocks of skin.  This is called collagen induction therapy.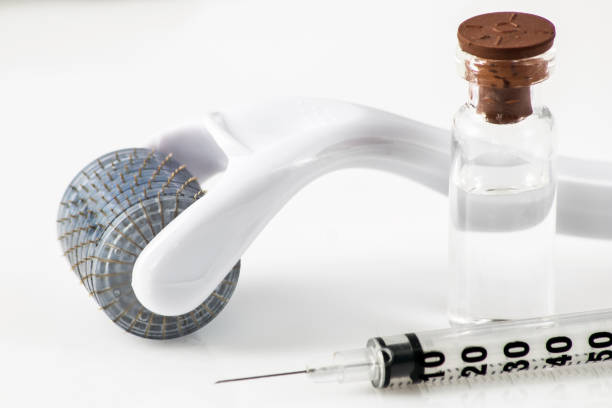 Can microneedling help with hair loss?
Microneedling is an effective form of hair stimulation and can boost scalp health to treat and prevent hair loss.  When used in the scalp, microneedling stimulates dermal papilla, or the stem cells in hair follicles, to encourage growth factors.
By combining microneedling with Minoxidil lotion or PRP, the treatment becomes even more effective than microneedling alone.
In one clinical study "Dermaroller along with Minoxidil treated group was statistically superior to Minoxidil treated group in promoting hair growth in men with AGA for all 3 primary efficacy measures of hair growth. Microneedling is a safe and a promising tool in hair stimulation and is useful to treat hair loss refractory to Minoxidil therapy."
Hair Transplant – Is a hair transplant successful for hair loss?
A hair transplant (also known as hair restoration or hair replacement) is a surgical procedure that transplants hairs from your donor area (back and sides of your scalp) to the frontal hair line and crown area.  Hair grafts are tiny pieces of scalp containing one or two hairs with roots. They are harvested in the donor area where the hair normally doesn't fall out.
Hair transplant is usually the last resort for people who have tried other hair loss treatments but failed. The idea is to transplant enough donor hair to the new area to create a new hair line and add density to the crown area.
The success of a hair transplant depends on many factors such as the skill of your doctor and the amount of donor hair area that you have.  If you don't have enough donor hair, then the results will look spare.
There are several ways to perform hair transplants:  Graphing, Scalp Reduction, Flap Surgery, and Tissue Expansion.
Hair Graphing
The most common type of hair transplant is hair grafting (previously called hair plugs). Tiny pieces of scalp are removed, and the hairs separated. They are then surgically inserted back into the bald or balding scalp area.
Scalp Reduction
Scalp reduction involves surgically removing a patch of bald scalp and stitching it back. It is ideal for bald areas on the top and back of the head.
Flap Surgery
Flap surgery involves the doctor making cuts around three sides of a donor site. The fourth side remains intact, maintaining its blood supply. The doctor then cuts the flap and lift it over bald areas.  This procedure involves several phases spaced over a few weeks.
Tissue Expansion
Tissue expansion involves a doctor inserting an implant under the scalp where there is still hair. The implant is shaped like a balloon and is called a tissue expander.  The expander is gradually inflated over several weeks to stretch the skin. Then the doctor does a second procedure to cover the bald area with the stretched skin.
Hair transplant may or may not be a good option for you.  If you have questions about hair transplant, please contact us with your questions and concerns.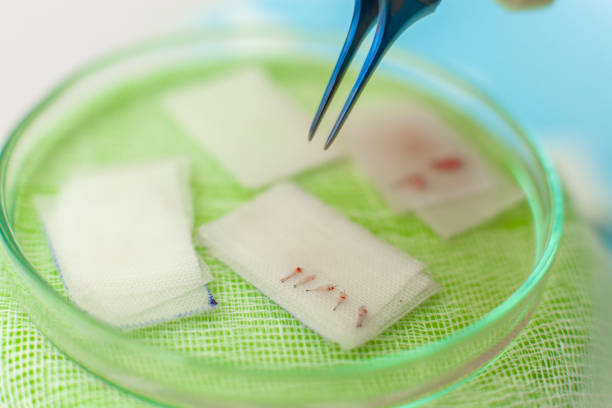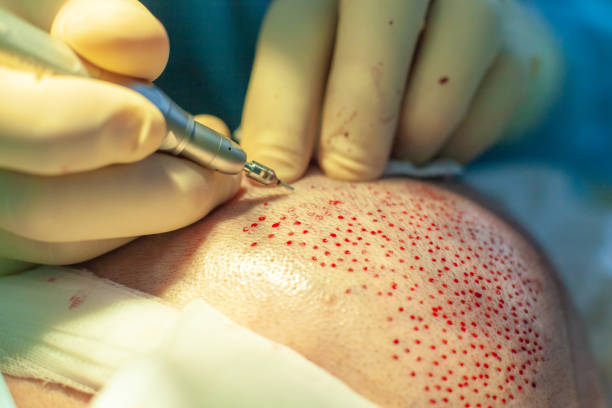 Scalp micropigmentation was invented only 20 years ago in the UK.  Since then, it has exploded worldwide in almost every city.  Scalp micropigmentation has become popular due to its many benefits.
What is Scalp Micropigmentation?

Scalp micropigmentation (often called SMP or hair tattoo), is a nonsurgical procedure whereby tiny drops of ink pigment is inserted into the scalp using a tiny needle attached to a traditional tattoo machine.  It is called a hair tattoo but is nothing like a traditional tattoo.  The tiny dots created by the SMP artist mimic the look of real hair follicles.  If done properly by an experienced SMP artist, it looks very natural even at close range.
Is Scalp Micropigmentation Permanent?

The scalp micropigmentation procedure takes 3 to 4 sessions to complete over 2-4 weeks.  Once completed it should last about 8 years.  It will gradually fade during this time and a touch up may be required every few years to keep it fresh looking again.
Scalp Micropigmentation Cost?
Scalp micropigmentation cost varies depending on who is doing it.  SMP isn't a regulated industry so you are comparing experienced SMP artists with novices and inexperienced technicians who may or may not know what they are doing. A reputable SMP clinic normally charges between $3,000-$5,000 and do 3 to 4 sessions. We highly recommend doing some homework when looking for a scalp micropigmentation clinic to determine the SMP artist experience and ratings.
At our hair loss clinic, our SMP artist are highly trained individuals who have mastered the art of SMP and have preformed many hair tattoo treatments on many clients.
Is Scalp Micropigmentation Good for Women?
Yes, scalp micropigmentation is ideal for both men and women.  For men, the procedure is usually to recreate a new hair line and cover all the balding areas.  This treatment requires the men to shave their hair to give it the buzz cut look.
For women the procedure is a little different.  Because women lose their hair differently with a more diffused hair loss, the purpose of scalp micropigmentation is to add density to the hair.  This is achieved by placing the dots between the hairs giving the appearance of thicker hair.
CLICK HERE for our main scalp micropigmentation site.
There you have it, 8 of the most popular hair loss treatments available today.  Are you experiencing hair loss?  Success of treatment is often better at the onset of hair loss instead of waiting many years into it.  If you are past the stage of trying to prevent hair loss with treatments and looking for other options like a hair transplant or scalp micropigmentation, why not give us a call. We'd be happy to help with all your hair loss needs.  Two clinics in the GTA, downtown Toronto and Richmond Hill.  Get a FREE online hair loss assessment with our in-clinic trichologist at the Trichology Centre | Hairlossclinic.ca.
The Trichology Centre in Toronto and Richmond Hill have treated many patients for hair loss over the years.  Our in-clinic trichologist can help with your current hair loss condition and recommend the best treatment plan possible.   Please give us a call at 647-492-9093 or fill out our free online hair loss assessment below.
We have two clinics in the Toronto GTA,
600 Sherbourne St #605, Toronto
9140 Leslie St, Richmond Hill.
Please give us a call at 647-492-9093
FREE ONLINE HAIR LOSS ASSESSMENT FORM
ADDRESS
Toronto, 600 Sherbourne St #605, Toronto
Richmond Hill, 9140 Leslie St #301
EMAIL
hairlossclinic.ca@gmail.com
WORKING HOURS
Mon-Sat 10:00-20:00
Sunday CLOSED
Book Your Free Consultation Today Or Call (647) 492-9093
Comments are closed.