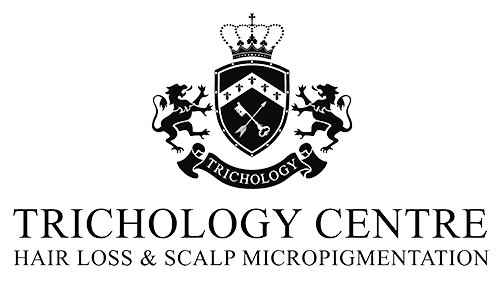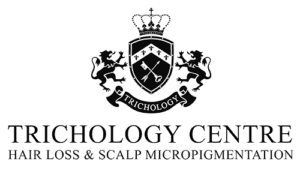 NOURKRIN® FOR MALE AND FEMALE ALOPECIA HAIR LOSS TREATMENT
Nourkrin® contains natural ingredients and has been clinically proven to help thinning hair (see References and Further Reading). The key active ingredients are marine-based extracts of proteins and polysaccharides that have been combined with silica, vitamin C, and horsetail extract. Developed by scientists in Finland, Nourkrin® has been the subject of many double blind, placebo-controlled clinical studies, the latest of which showed that 77 percent of all participants reported a positive effect during a six-month treatment period and their hair count increased by an average of 35.7 percent (see References and Further Reading). I use Nourkrin® as part of my own overall treatment strategy (see the Preface) and have seen it produce very good results with both my male and female patient.
The goal of any treatment approach, no matter the cause, type or hair growth issue, is to normalize and restore the Hair Growth Cycle.
A complete strategy must be used, including an out-inside approach with scalp treatment and an inside-out route to supply hair stem cells with all specific nutrients and ions they need.
Nourkrin® works with the normal Hair Growth Cycle to help normalize and maintain the overall life and function of the hair follicles.
To ensure the optimal function of the Hair Growth Cycle, users are advised to follow a course of the product for a minimum period of 6 months for optimum results.
NOURKRIN® MAN
Regular and proactive use from the very first signs of thinning can delay or prevent the onset of hair loss symptoms. Today, the award-winning Nourkrin® Man is appreciated by men around the world. Values Per 2 Tablets (daily serving)
.
Marilex® 600mg
Acerola Cherry Extract 240mg
Fenugreek 90mg
Silica 60mg
Horsetail Extract 50mg
Cod Liver Oil Extract 20mg
D-biotin 180ug
Ingredient List (in full)
Marilex® (fractionated fish extract with specific lectican proteoglycans), acerola cherry extract (malpighia punicifolia), fenugreek (trigonella foenum-graecum), silicon dioxide, horsetail extract (equisetum arvense), cod liver oil extract, D-biotin, bulking agent (microcrystalline cellulose), stabilisers (hydroxypropyl methyl cellulose; magnesium salts of fatty acids), anti-caking agent (cross linked sodium carboxy methyl cellulose), glazing agents (glycerol; talc), colours (titanium dioxide; iron oxides).
.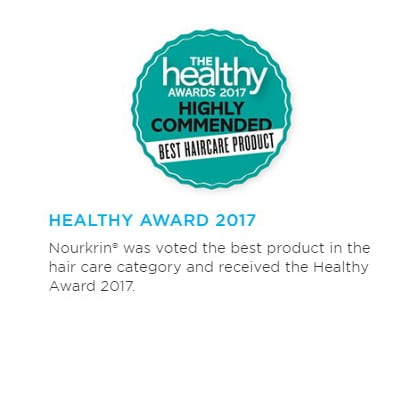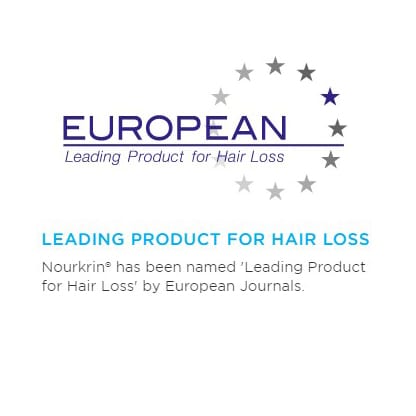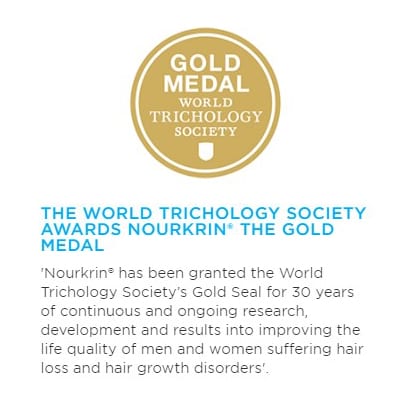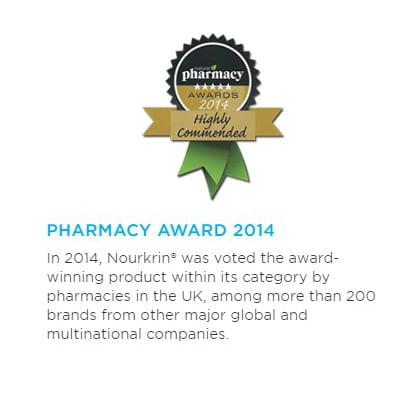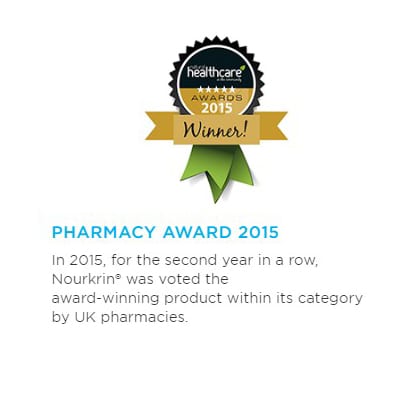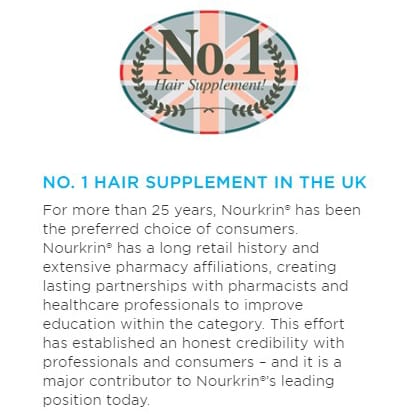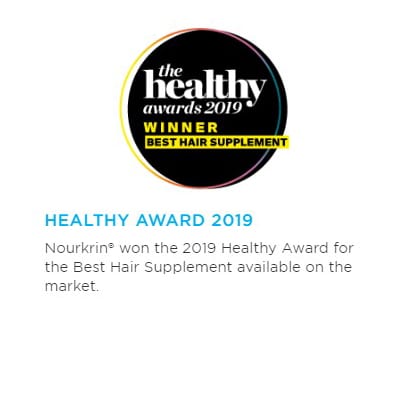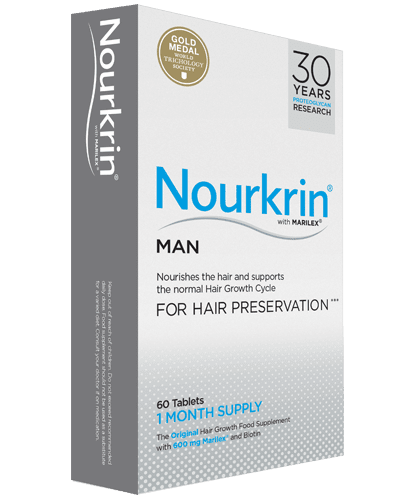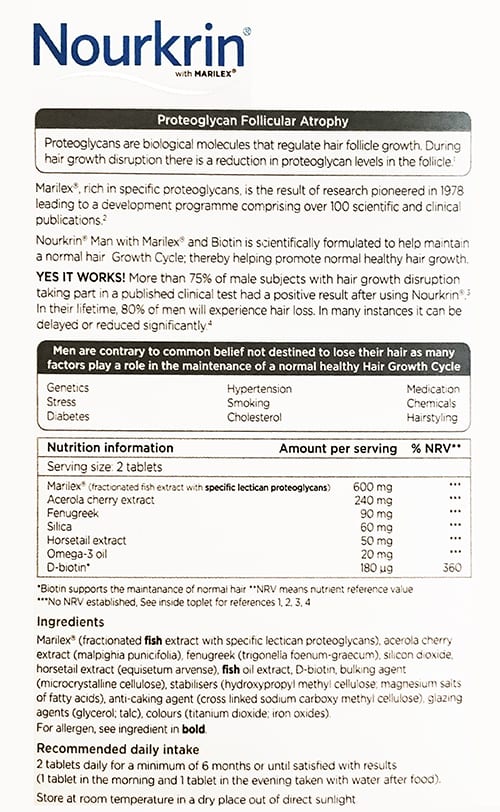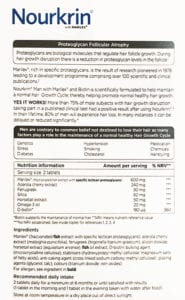 ADDRESS
Toronto, 225 Wellesley St East #5
Richmond Hill: 9140 Leslie St #301
EMAIL
hairlossclinic.ca@gmail.com
WORKING HOURS
Mon-Sat 10.30 - 8:00
Sunday CLOSED
NOURKRIN® WOMAN
Nourkrin® Woman with the unique Marilex® helps support, normalize and maintain the Hair Growth Cycle by carefully providing the correct nutrients to the hair follicles.
Today, the award-winning Nourkrin® Woman is appreciated by women around the world.
30 YEARS OF KNOWLEDGE AND RESEARCH IN HAIR LOSS AND PROTEOGLYCANS
Up to 60% of women will experience a hair growth disruption.
YOU ARE NOT ALONE!
Yet, no matter what type of female hair loss occurs, the Hair Growth Cycle is almost always affected.
The Hair Growth Cycle can be disrupted by many factors, e.g.:
Stress, Genetics, Diabetes, Poor Nutrition, Hyperthyroidism, Cholesterol, Medication, Childbirth, Hormones, Hypertension, Hairstyling and others.
Nourkrin® Woman with the unique Marilex® is scientifically formulated to help maintain a normal Hair Growth Cycle, which helps to support normal healthy hair growth.
With Nourkrin®, you get what you deserve as the product has been featured in numerous clinical peer-reviewed papers and is used globally as a primary therapy to address hair growth disorders. Nourkrin® Woman is completely safe and 100% drug-free.
.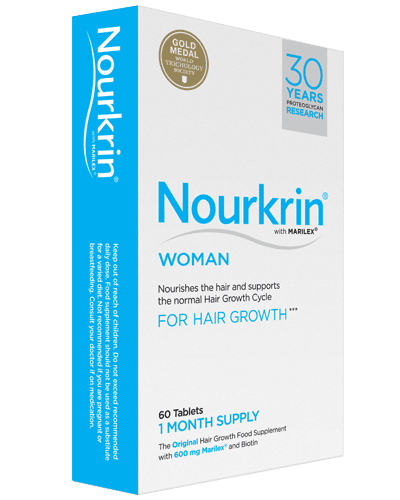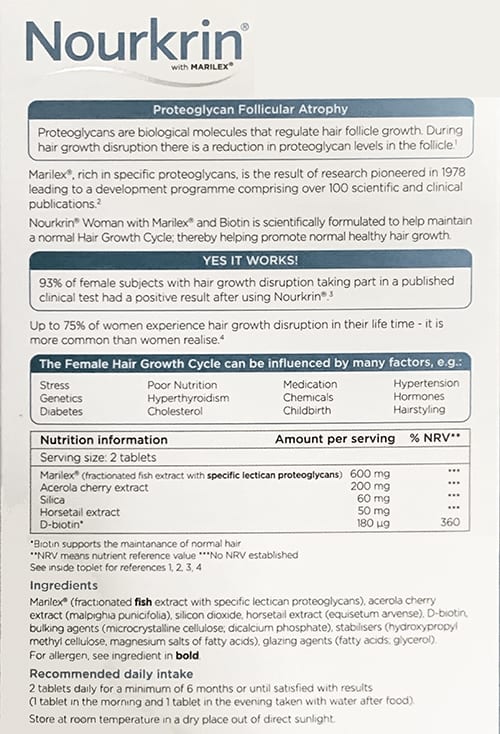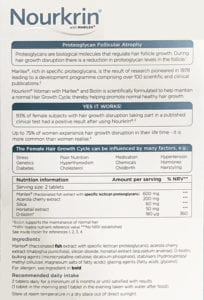 ADDRESS
Toronto, 225 Wellesley St East #5
Richmond Hill: 9140 Leslie St #301
EMAIL
hairlossclinic.ca@gmail.com
WORKING HOURS
Mon-Sat 10.30 - 8:00
Sunday CLOSED
Is Nourkrin® safe to use?
Yes, Nourkrin® is completely safe as it is 100% drug-free.
Are there any side effects from using Nourkrin®?
No, Nourkrin® is entirely based on drug-free ingredients which are evaluated as safe by the food and drug authorities globally, and there have been no known side effects in the more than 20+ years that it has been available.
Can I use Nourkrin® for longer than 6 months?
Yes, Nourkrin® is ideal for long-term maintenance after the desired results have been achieved.
Does Nourkrin® interfere with any medication?
No, there are no known or registered instances of interference as Nourkrin® is naturally based. However, if you are on medication, it is generally always advisable to check with your doctor before commencing with any supplement program.
Why is Nourkrin® unique?
Nourkrin® has more than 25 years of proven brand history in the UK and other international markets and has consistently provided the original efficacy that consumers trust and rely upon.
Nourkrin® is the only product worldwide containing Marilex® (which has a unique and protected composition structure), and consumers should therefore beware of imitation products that claim to deliver similar effects with so-called 'marine proteins' or 'marine extracts' – as these are not the original, scientifically tested Marilex®.
What is Marilex®?
Marilex® sets Nourkrin® apart from other products claiming to contain similar ingredients as it is a proprietary ingredient based on exclusive intellectual property rights unique to Pharma Medico.
Marilex® (fractionated fish extract with specific lectican proteoglycans) is made with the highest quality raw materials using an exclusive, protected extraction technology and is accepted by health authorities on all continents of the globe including the FDA and European Food Safety Authority.
Each Nourkrin® tablet contains the precise amount of Marilex® (300 mg), which is the exact quantity that has been used in the clinical studies. The other ingredients further influence the Hair Growth Cycle, and Nourkrin® is therefore not just a simple multivitamin, but an effective, scientifically proven product.
Why is Nourkrin® a 6 month program?
This is simply due to the prolonged nature of the Hair Growth Cycle itself. At any point in time, some hairs are in the Anagen (growth) phase, while others are in the Telogen (resting) phase.
What happens if I stop taking Nourkrin® after 6 months?
If your hair loss is due to acute, temporary factors, such as stress or hormone changes, your results after 6 months may remain over time – given that these lifestyle factors have improved or changed. If your hair loss is related to genetics or chronic in nature, the condition may return after the treatment has ended.
Will taking more than the recommended dosage increase the speed or quality of my hair growth?
No, each Nourkrin® tablet contains the precise strength of active ingredients that have been used in the clinical studies.
It has been demonstrated in clinical studies that intake of more than the recommended daily dosage provides absolutely no added benefit.
How long does it take before I start to notice a difference in my hair?
Most Nourkrin® users start to see a difference after 2-3 months of proper use on the recommended daily intake.
Will Nourkrin® work if I have already gone bald?
Unfortunately, once the hair follicle is dead, it is no longer able to produce hair. Therefore, it is recommended to begin using Nourkrin® at the first signs of hair thinning or hair loss.
Will I experience growth of body hair using Nourkrin®?
Nourkrin®'s active ingredient Marilex® contains specific proteoglycans that are only involved in the hair follicle cycling of scalp hair, meaning, it does not affect the growth of body hair.
The human scalp has a 'finite' number of hair follicles that after puberty are known as 'terminal' hairs. Terminal hairs also exist on the face, for example, eyelashes and eyebrows, and on the body. The terminal hairs are usually darker and thicker than the fine transparent hairs that are found all over the body, which are known as 'vellus' hairs. When these terminal scalp hair follicles' growth is disrupted for whatever reason, whether due to hormones, stress, genetics or another cause, they become dormant and cannot grow hair, however, the follicles are still intact. Nourkrin® with Marilex® stimulates the dormant scalp follicles back into the Anagen (growth) phase and normalizes the Hair Growth Cycle to promote normal, healthy hair growth.
AS A LEADER WITHIN THE FIELD OF RESEARCH OF HAIR
Nourkrin® is committed to ensuring its recognition as a benchmark for excellence – not only by consumers, but also by scientists, dermatologists, cosmetologists and aestheticians worldwide.
Nourkrin® is based on more than 56 scientific studies and clinical papers published in leading peer-review journals.
Nourkrin® has been tested in placebo, double-blind studies and shown to be side effect free.* This is in contrast to other pharmaceuticals, which may cause; scalp itching, dryness, scaling, flaking, irritation, burning and in extreme instances weight gain, swelling of the face, ankles, hands or stomach, difficulty breathing (especially when lying down), rapid heartbeat, chest pain and light headedness.**
Nourkrin® continues to partner with the world's leading authorities on hair loss and hair thinning based on its clinically documented efficacy and safety standards.
Nourkrin® contains naturally based ingredients that have been scientifically documented to be safe and effective.*
Looking to order Nourkrin® Man or Nourkrin® Woman?  Please give us a call at 647-492-9093.  30 days and 90 days supplies available.
NO. 1 HAIR SUPPLEMENT IN THE UK
FREE ONLINE HAIR LOSS ASSESSMENT FORM
Are you experiencing any hair loss or scalp issues? Get a Certified Trichologist to assess and help treat your condition in Toronto and Greater Toronto Area. Please complete our online Trichology Assessment Form to get started TODAY.
ADDRESS
Toronto, 225 Wellesley St East #5
Richmond Hill: 9140 Leslie St #301
EMAIL
hairlossclinic.ca@gmail.com
WORKING HOURS
Mon-Sat 10.30 - 8:00
Sunday CLOSED
Comments are closed.