HLCC Scripts Hair Rejuvenation
Hair rejuvenation is a popular method for restoring hair growth and thickness. Unfortunately, many individuals experience hair loss or thinning due to various factors such as genetics, aging, and medical conditions. Fortunately, different hair rejuvenation products are available on the market that can help restore hair growth and improve the health of the scalp and hair.
One of the leading providers of hair rejuvenation products is HLCC. We offer a wide range of hair rejuvenation products from HLCC that have been proven effective in restoring hair growth and thickness. Let's take a closer look at their popular products:
Hair rejuvenation products nourish and stimulate hair follicles, promote hair growth, and improve scalp health. Many of these products contain natural ingredients that are safe and effective, making them a popular choice for individuals who want to improve the health of their hair and scalp without resorting to harsh chemicals or invasive procedures.
HLCC DHT Shampoo is a specially formulated shampoo that targets DHT, a hormone that can contribute to hair loss in both men and women. This shampoo contains natural ingredients that cleanse the scalp, remove excess sebum and impurities, and improve hair follicle health. By reducing the levels of DHT on the scalp, this shampoo can help prevent hair loss and promote healthy growth. HLCC DHT Shampoo is safe for all hair types and can be part of a comprehensive hair care regimen that includes other HLCC hair rejuvenation products. Regularly using this shampoo can lead to stronger, fuller, healthier-looking hair.
8 Ounce: $39.00
Extra Large 16 Ounce: $59.00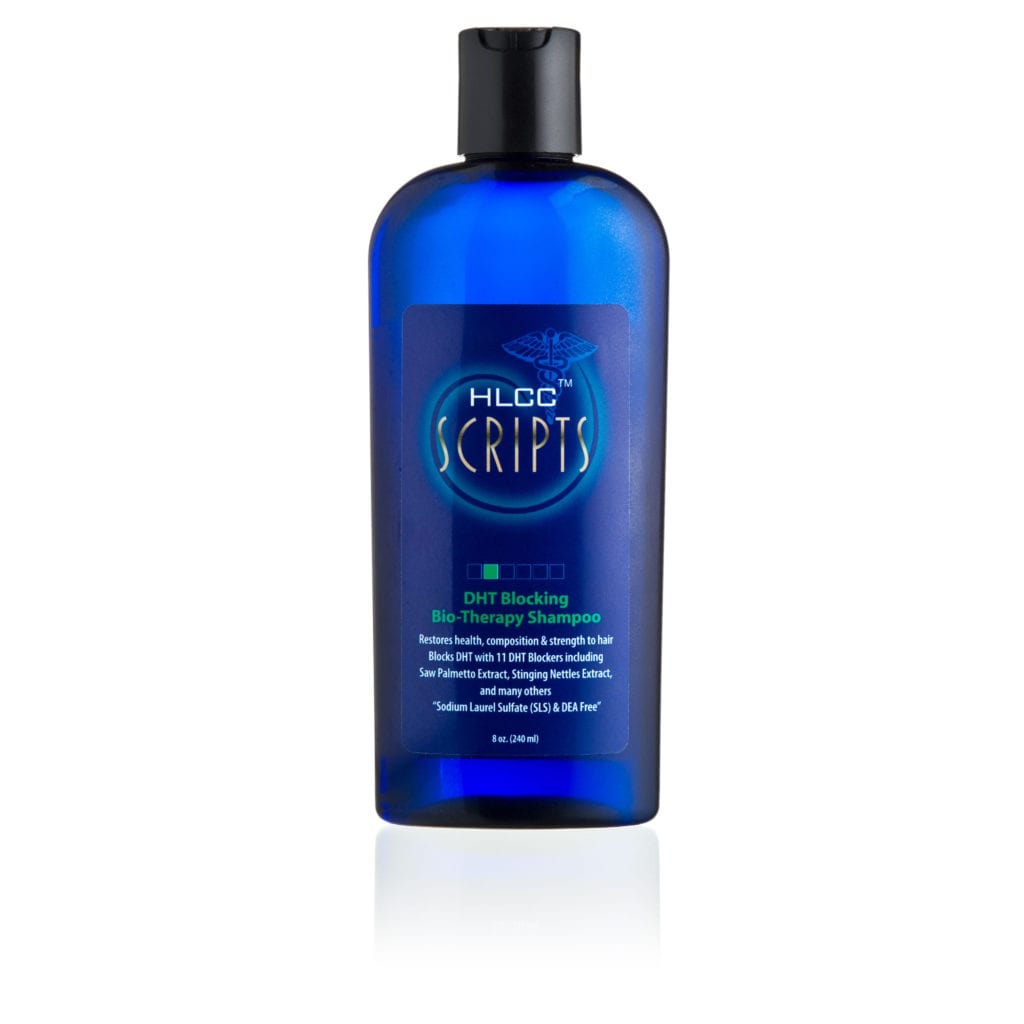 HLCC MGT is a potent formula that contains 11 DHT-fighting ingredients to combat hair loss. It also provides advanced nutrients to revive thin, dull, and aging hair. The unique herbal blend in MGT promotes healthy hair growth and scalp health, thanks to its high percentage of panthenol and cysteine. Cysteine is a keratin protein made up of 18 amino acids, and it plays an essential role in hair health. With regular use of HLCC MGT, users can expect to see an improvement in the thickness and overall health of their hair.
11 DHT Blockers
Saw Palmetto

Beta Sitosterol

Pygeyn Bark Extract

Stinging Nettles Extract

Alpha Linolenic Acid

Gamma Linolenic Acid

Linseed Extract

Borage Oil

Green Tea Extract

Pumpkin Seed Extract

Evening Primrose Extract
PRICE: $135.00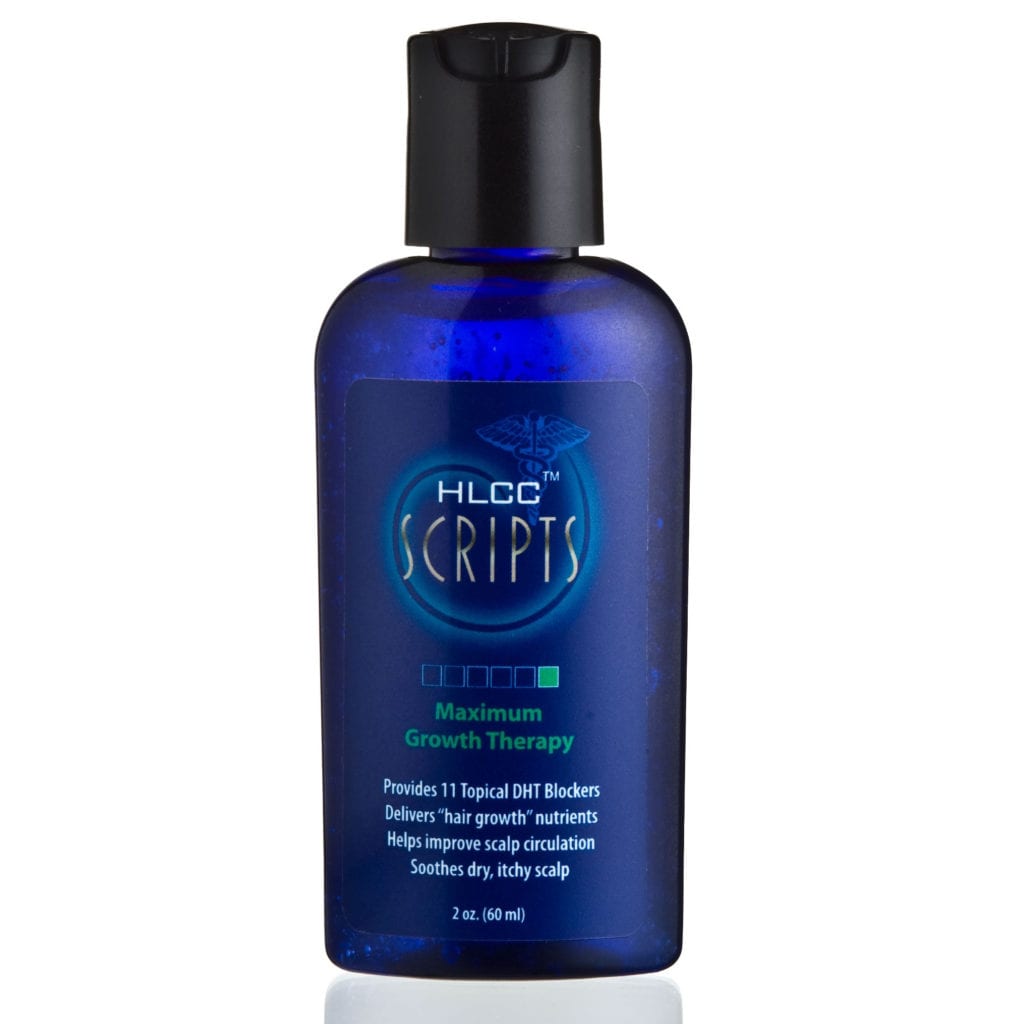 HLCC Scalp Therapy is formulated to dissolve and eliminate sebum build-up that commonly obstructs hair follicles, thus allowing for more effective absorption of topical stimulators like MGT or Re-Stim, or other stimulating formulas by facilitating penetration to the dermal papilla. The product is enriched with a high concentration of B vitamins, including vitamin B6, which is vital for promoting hair health. By nourishing the scalp and optimizing follicle function, HLCC Scalp Therapy helps combat hair loss, thinning hair, and other scalp conditions. Whether used alone or in conjunction with other hair rejuvenation products, HLCC Scalp Therapy is a valuable addition to any hair care regimen.
4 Ounce: $55.00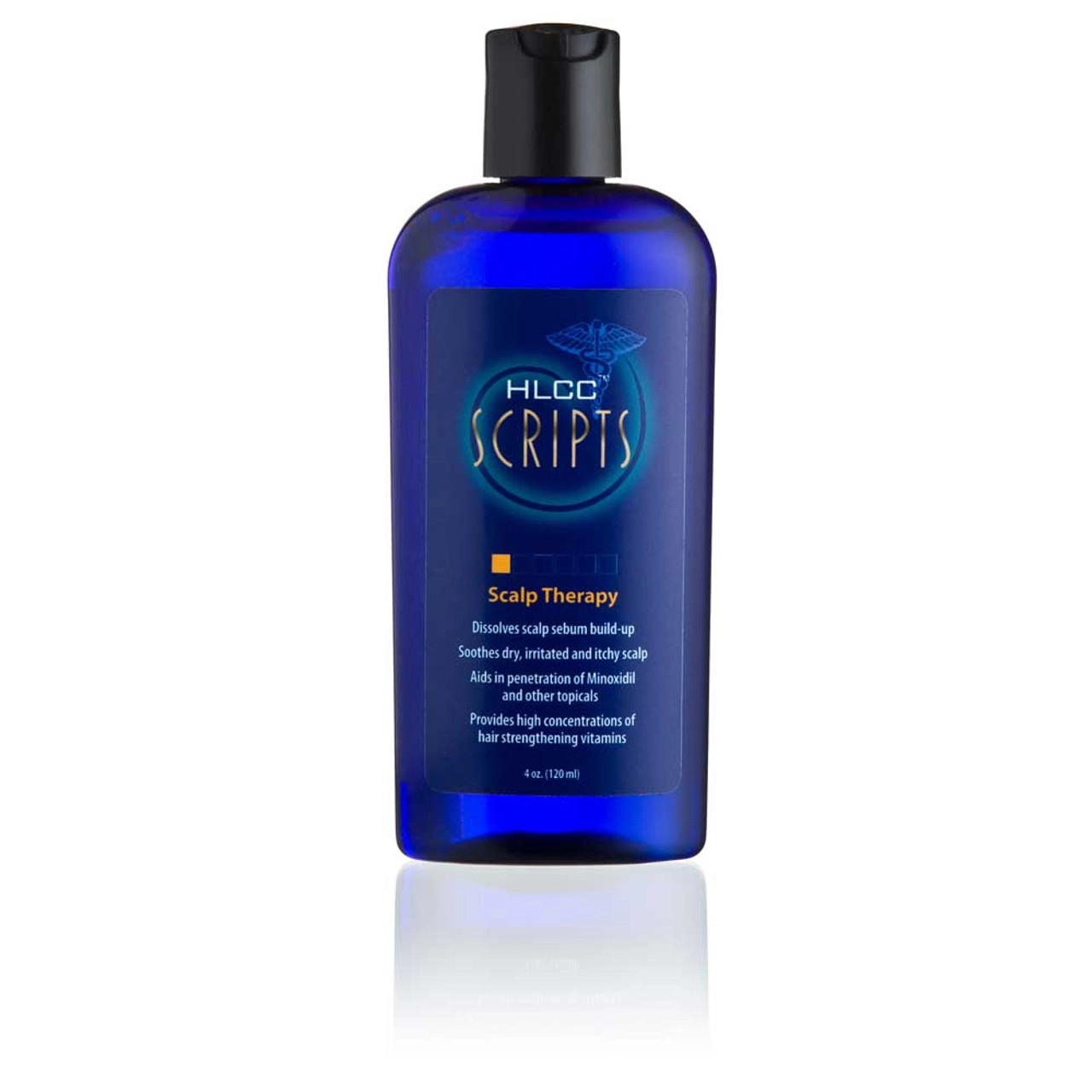 The HLCC Scripts Complete supplement is a one-of-a-kind 3-in-1 herbal solution containing 8 natural ingredients that work against DHT to prevent it from negatively affecting hair follicles and overall hair health. In addition, this exceptional formula is also packed with essential hair nutrients to support optimal hair growth, as well as a natural marine concentrate (MGC) that has been clinically proven to be safe and effective for all ethnicities and genders. With its 8 DHT opposing ingredients, complete hair nutrition, and MGC, the HLCC Scripts Complete supplement stands out as a unique and effective solution for combating hair loss and promoting healthy hair growth.
$65.00 (30 Day Supply)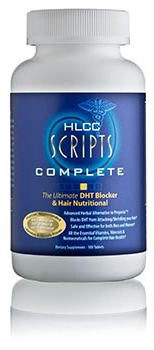 HLCC Scripts Vitamin Plus Conditioner (extra large 16 ounce)
he HLCC Scripts Vitamin Plus Conditioner is a stimulating hair conditioner that is designed to promote overall hair and scalp health. It is an effective product when used in combination with other hair care products from HLCC. The conditioner is formulated with essential vitamins, minerals, and amino acids that can help to strengthen and revitalize hair, leaving it looking healthier and shinier. By incorporating this stimulating conditioner into your hair care routine, you can help to improve the overall health and appearance of your hair.
8 Ounce: $39.00
Extra Large 16 Ounce: $59.00
Re-Stim™ is a powerful hair rejuvenation formula that combines 5% Saw Palmetto Extract and 5% Minoxidil to inhibit DHT topically while accelerating hair growth. This product is recommended for individuals with light to medium hair thinning, and it contains aloe to soothe inflammation, which is often a contributing factor to hair thinning. When used with Scalp Therapy™, it can help break down and dissolve sebum buildup, allowing for better absorption of Re-Stim™ and maximizing its effectiveness. With regular use, Re-Stim™ can help improve hair strength, thickness, and volume, promoting a fuller and healthier head of hair.
PRICE: $160.00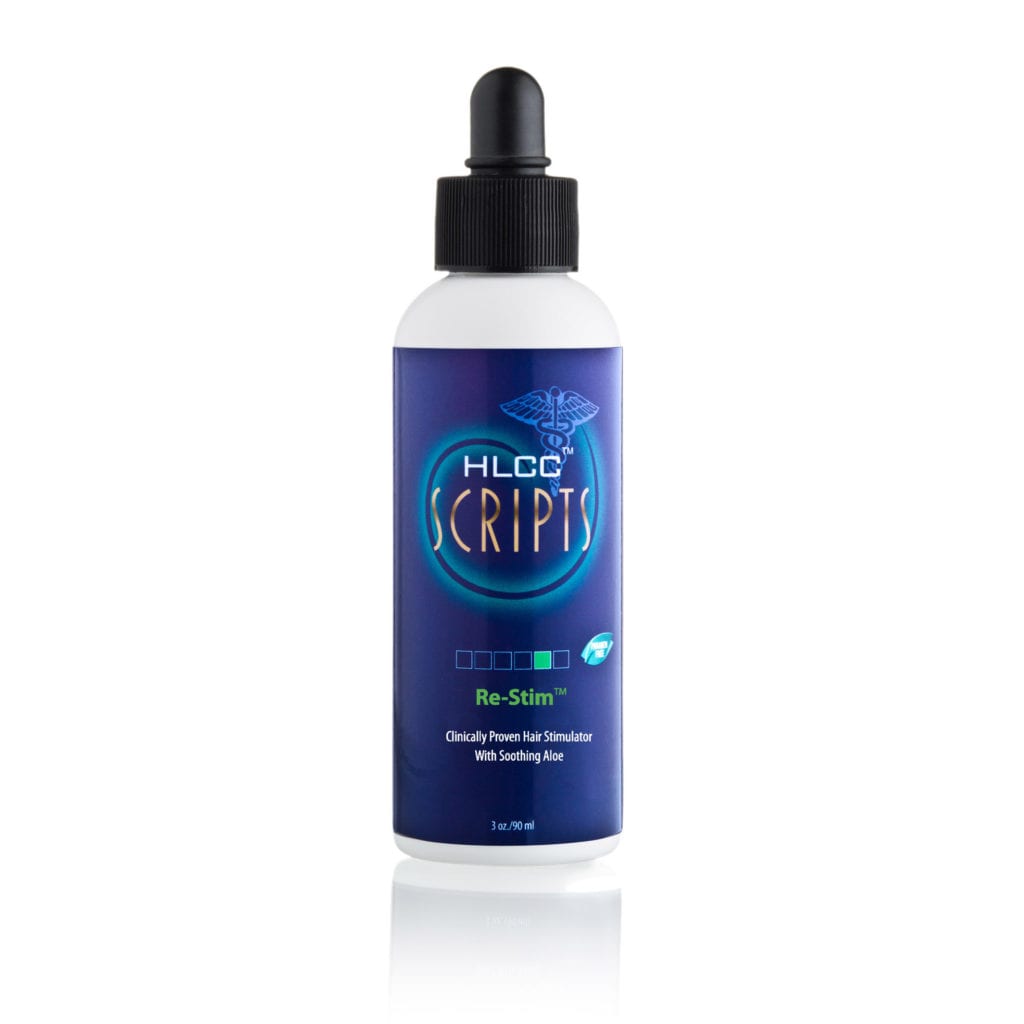 HLCC's Complete Program is a comprehensive hair care package designed for men and women looking for a solution to their hair concerns. It includes a potent topical stimulator packed with 11 DHT-blocking ingredients and a proven topical stimulator. This multi-therapeutic Program addresses the root cause of thinning hair, DHT, and provides essential hair nutrition while improving the hair cycle with the help of minoxidil formulas.
The Complete Program includes HLCC's signature products, each with unique benefits. Complete is a 3-in-1 herbal supplement containing 8 DHT opposing ingredients, a complete hair nutritional, and a natural marine concentrate (MGC) safe and effective for all ethnicities. Re-Stim is a topical stimulator that increases blood flow to the scalp, revitalizes the hair follicles, and promotes hair growth. Scalp Therapy is designed to break down and dissolve sebum build-up that often clogs hair follicles, enabling more targeted absorption of topical stimulators. It also contains a high concentration of B vitamins, particularly B5, essential for hair health. Finally, DHT Shampoo is a potent formula that removes sebum build-up and unclogs hair follicles, promoting healthier hair growth.
If you are experiencing hair loss or a decrease in hair volume, HLCC's Complete Program may be the solution you've been looking for. It is a comprehensive, multi-therapeutic approach that addresses the underlying causes of hair loss while providing essential nutrients for healthy, vibrant hair.
Packed with DHT opposing ingredients and topical stimulators, this program includes:
Complete™

Re-Stim®
Scalp Therapy™
DHT Shampoo
PRICE: $335 (3 MONTHS SUPPLY)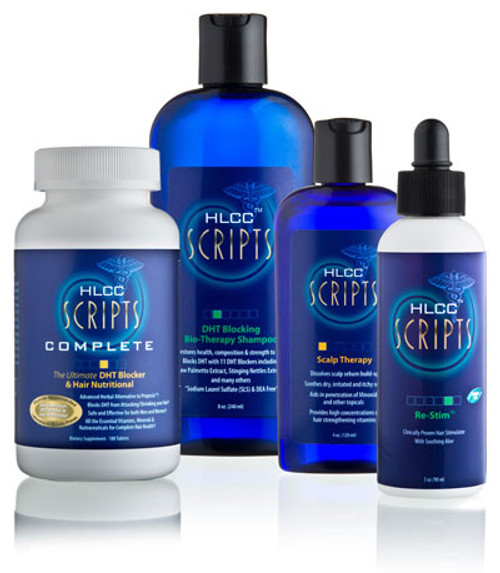 Comments are closed.