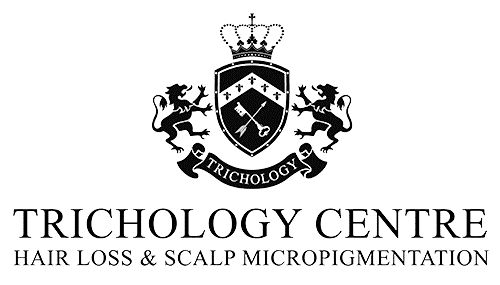 PRP FOR HAIR LOSS, DOES IT WORK?
Platelet-rich plasma (PRP) is a proven method for the treatment of androgenetic alopecia. Hair Loss patients have benefited with this in-clinic hair loss therapy.  Androgenic alopecia, also known as Male Pattern Hair Loss (MPHL) and Female Pattern Hair Loss (FPHL) are common, chronic hair loss disorder affecting both men and women. Androgenic alopecia is characterized by progressive hair loss and affects up to 80% of men and 40% of women.
PRP is an autologous preparation of platelets in concentrated plasma using your own blood.  The current methods by which PRP is prepared report 300-700% enrichment, with platelet concentrations consequently increasing to more than 1,000,000 platelets/L.
Clinics began using PRP in dermatology after researchers found that high concentrations of platelets in plasma cells can promote hair growth by prolonging the growing phase of the hair cycle. In the PRP procedure, your blood is harvested and spun in a centrifuge machine to separate out the platelets and plasma. Using a micro needling device, the hair loss area is applied with the plasma and massaged into the scalp. The tiny holes created with the micro needling device easily absorbs the serum into the skin.  It usually takes minimum of 3 months to see a visible improvement to your hair loss.  Over time, most clients, both male and female, can expect to see a 25% to 40% increase in hair that they have lost.  PRP therapy for hair loss works best if your alopecia occurred within 5 years or so.  It is more challenging to wake up hair follicles that have been dormant for a long time.
In a recent study, a significant reduction in hair loss was observed between first and fourth treatments. Hair count increased from average number of 71 hair follicular units to 93 hair follicular units. Therefore, average mean gain is 22.09 follicular units per cm2.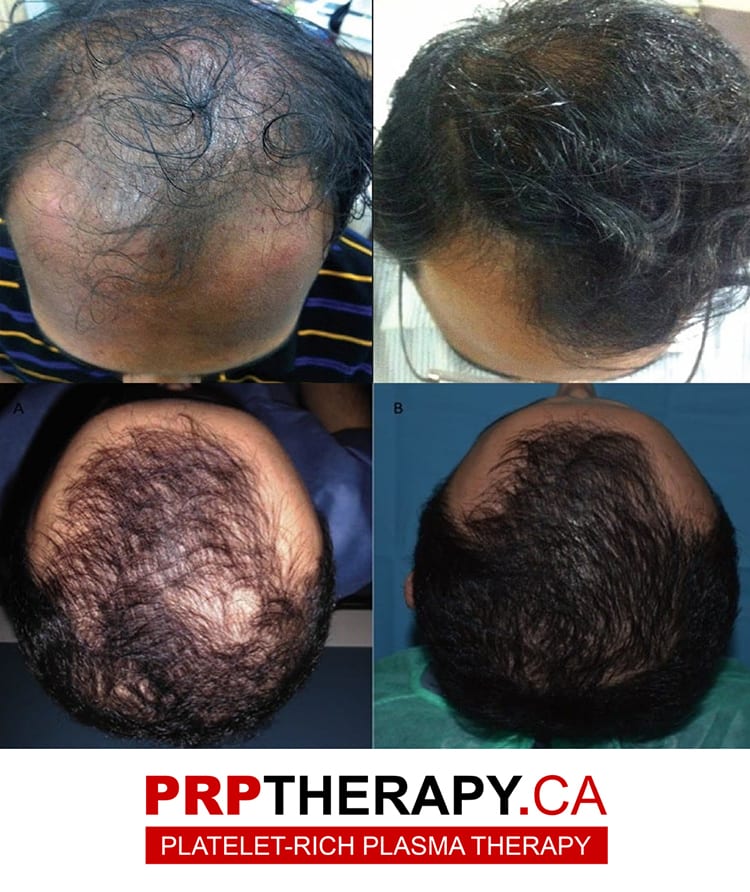 WHO IS SUITABLE FOR PRP FOR ALOPECIA
Both men and women suffering from androgenic alopecia can be good candidates for PRP.  It is a very safe procedure and effective therapy for hair loss.  However, if you have underlying health issues, such as lupus or thyroid disease, then PRP is not recommended.  Patients taking blood thinners should also avoid PRP.
PRP for hair loss is a simple, cost-effective treatment option for both men and women suffering from androgenic alopecia.  If you are experiencing thinning hair, now is the time to act to help restore your hair and gain your confidence back.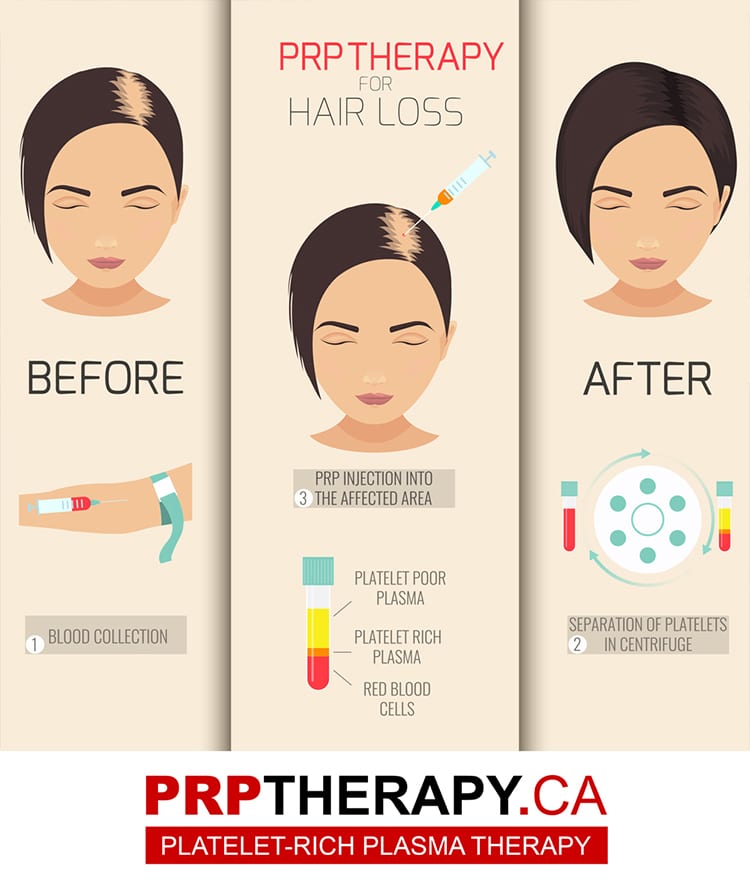 IS THE PRP PROCEDURE PAINFUL?
Our hair loss patients were pleasantly surprised that the treatment was not painful. The initial blood work may be unpleasant to some, but the PRP treatment is applied topically using a micro needling device and massaged into the scalp.  There is no down time post treatment, and patients can return to their regular scheduled day afterwards.  The whole procedure takes approximately 45 minutes for the blood work, centrifugation, and micro needling.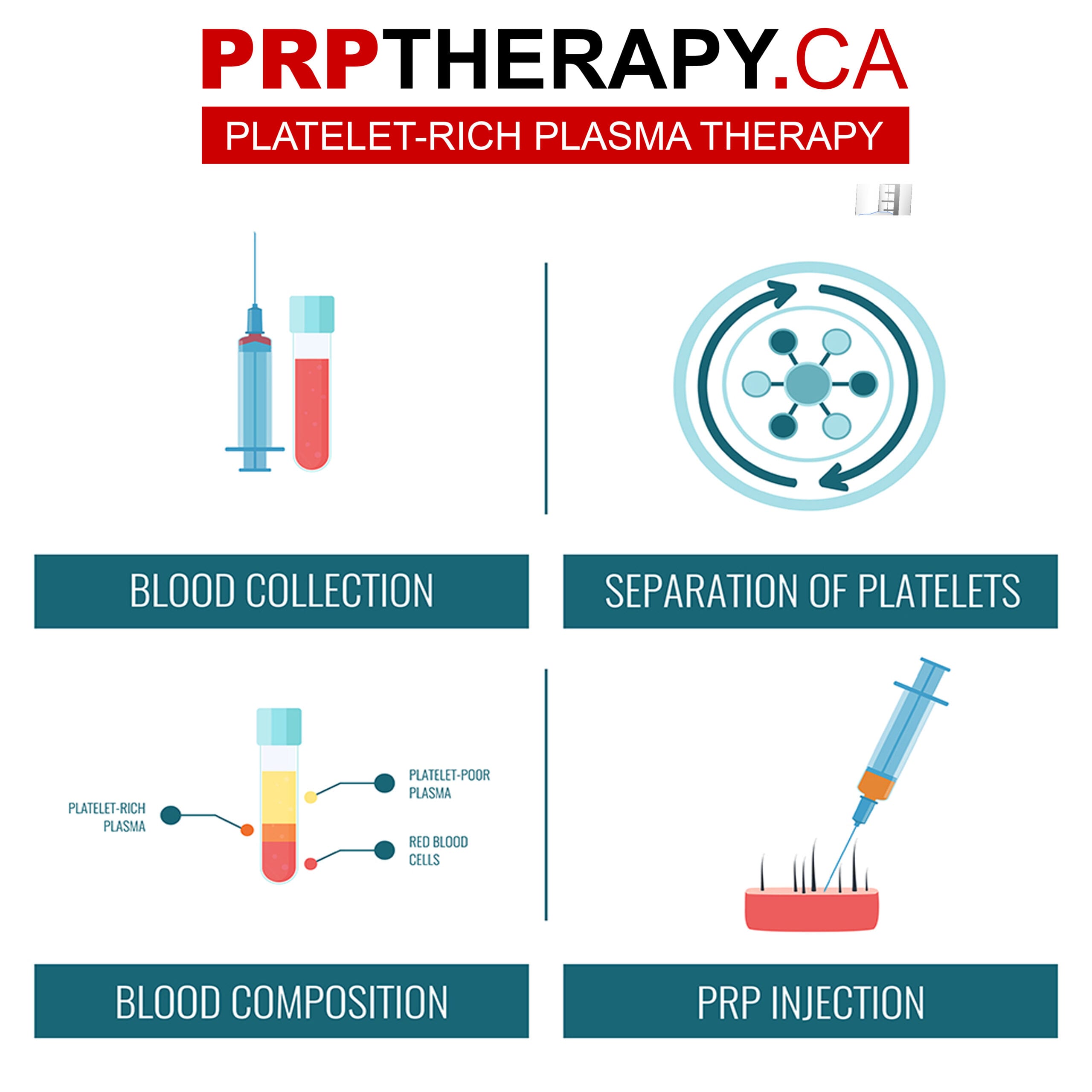 HOW MUCH IS THE PRP THERAPY AND HOW OFTEN SHOULD IT BE PERFORMED?
At HairLossClinic.ca and PRPTherapy.ca, we have a special promotion for PRP for ha ir loss.  Our 6 PRP Treatment Plan, spaced out every 2 weeks (12-Week Plan) is what we recommend to our patients.  Save $500 if you pre-pay for our 12-Week PRP Plan. Reg. $3000, current promotion $2500 for 6 treatments. Installment plans are available. Please give us a call at 647-492-9093 or visit https://HairLossClinic.ca or https://PRPtherapy.ca to book an appointment.  Clinics in Toronto and Richmond Hill.
FREE ONLINE HAIR LOSS ASSESSMENT
Are you experiencing any hair loss or scalp issues? Get a Certified Trichologist to assess and help treat your condition in Toronto and Greater Toronto Area. Please complete our online Trichology Assessment Form to get started now.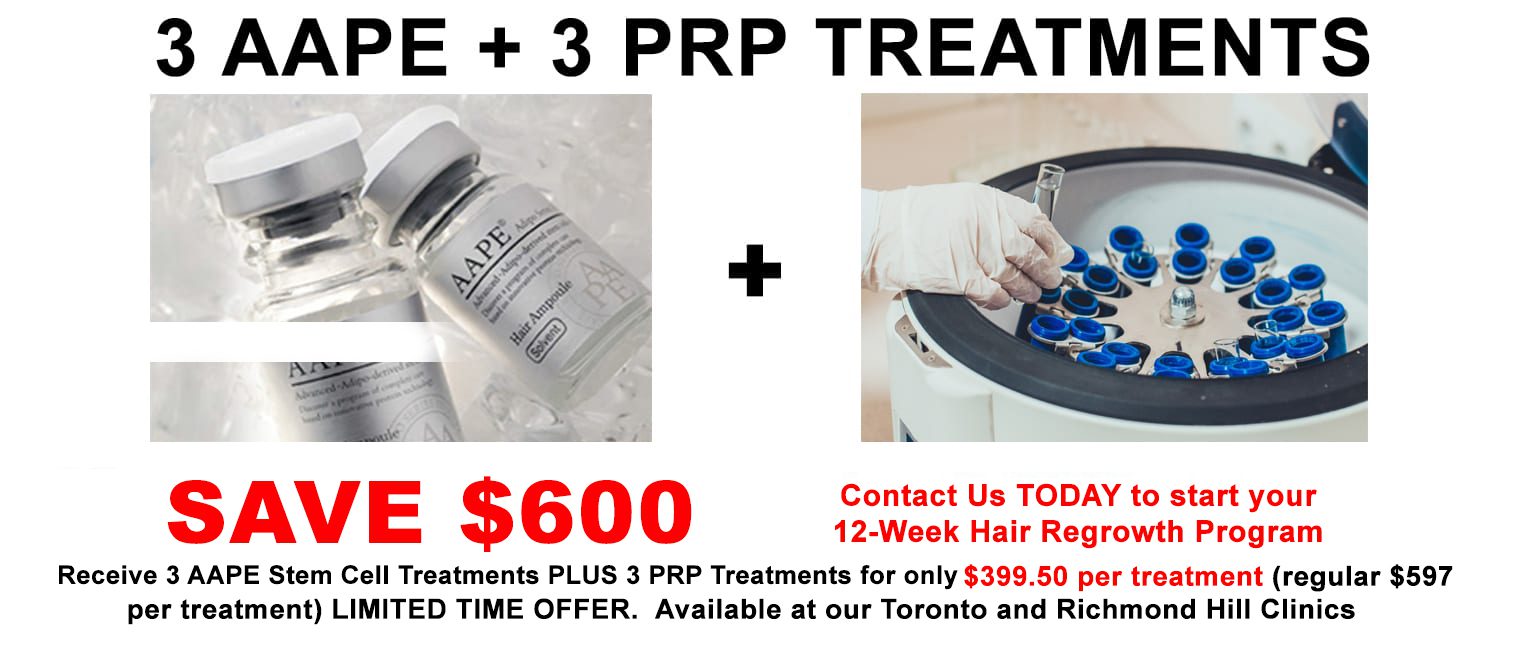 Comments are closed.