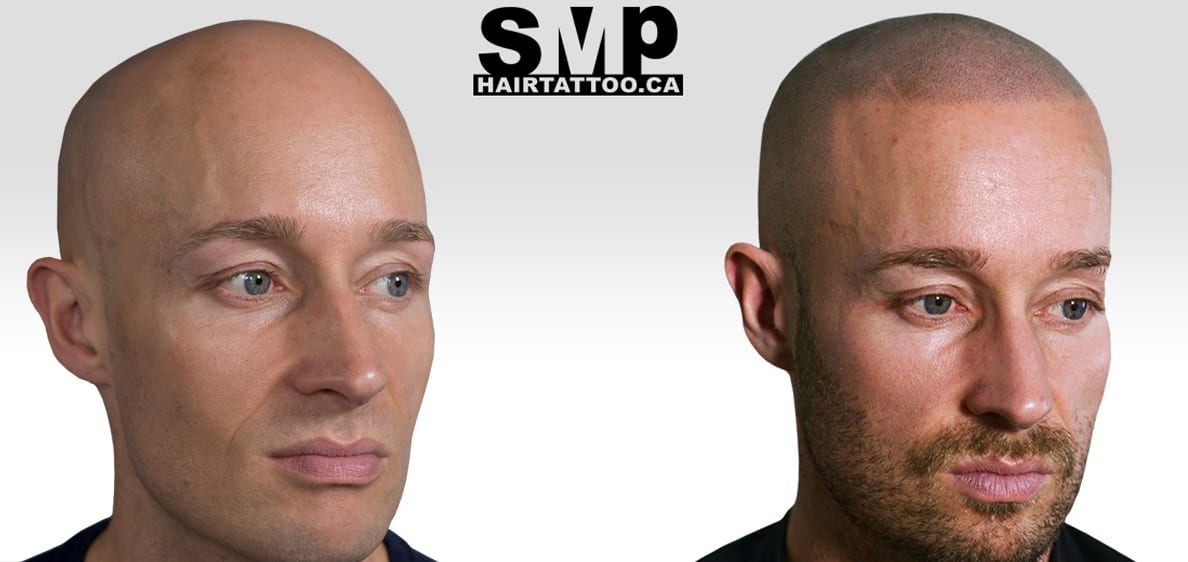 Hair Tattoo: An Immediate Hair Loss Solution
Although hair loss is relatively frequent, it is nonetheless distressing. Fortunately, there is no shortage of treatment choices; some aim to stop hair loss and promote hair growth, while others aim to conceal it.
You may have heard of a hair tattoo as a more recent alternative for concealment. High satisfaction percentages are achieved with hair tattoos covering up hair loss.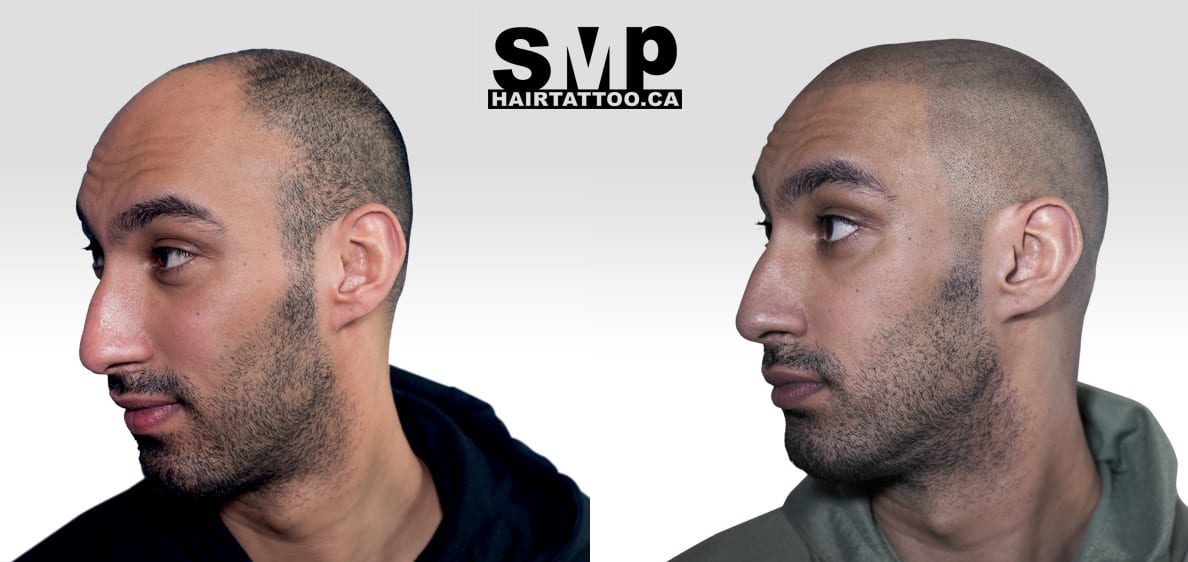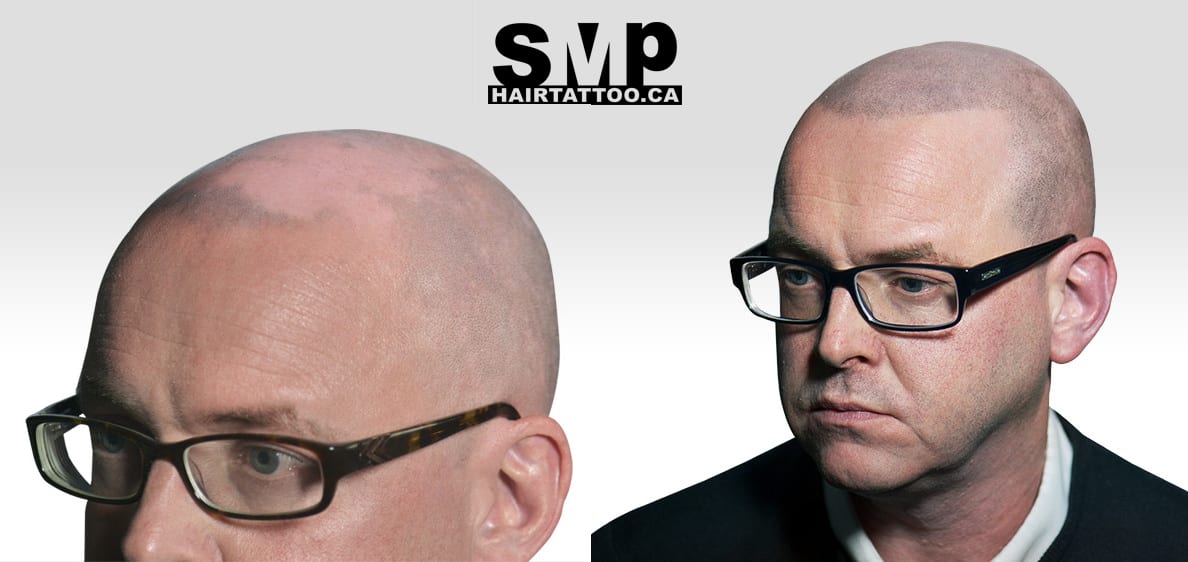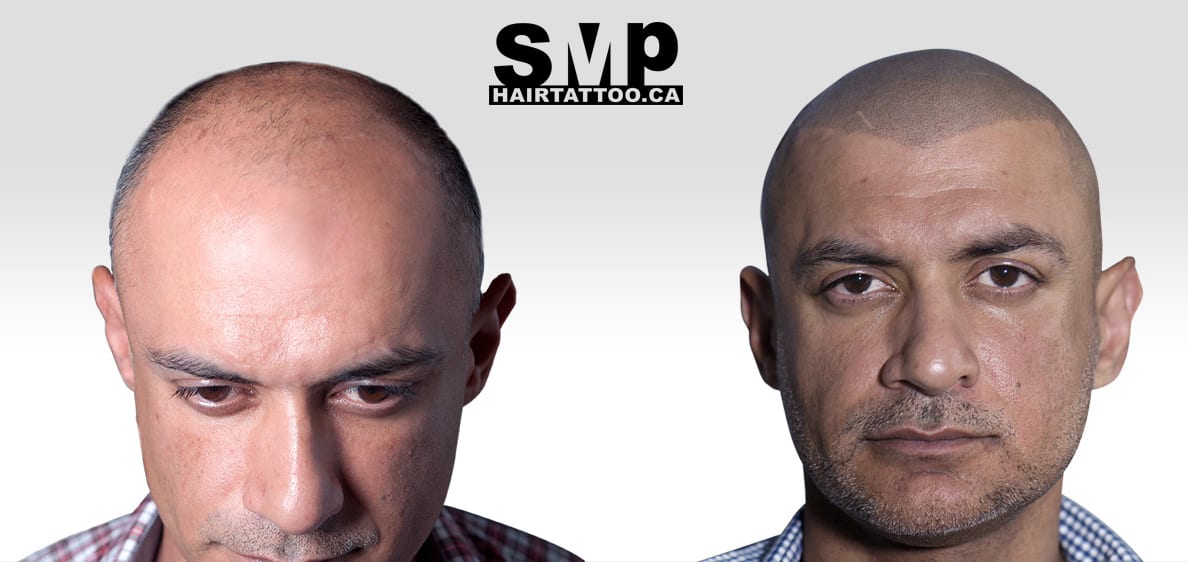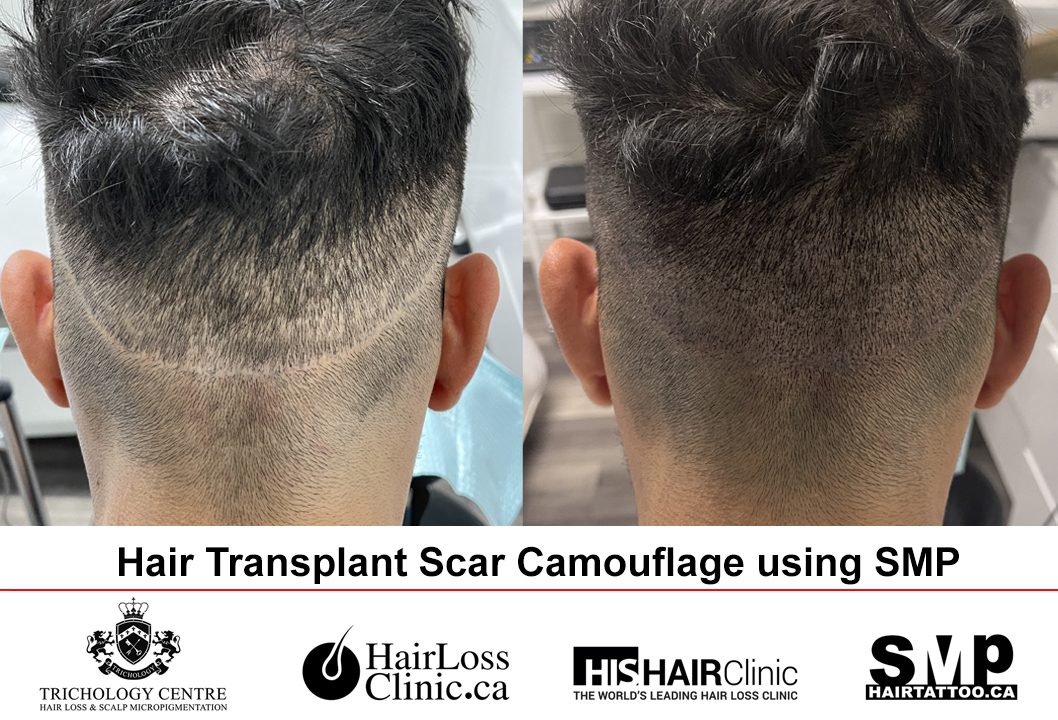 Get a FREE SCALP MICROPIGMENTATION Consultation in Toronto
What is a Hair Tattoo?
A scalp tattoo, also known as a hair tattoo, is a tattoo put on the scalp to simulate the appearance of a full head of hair and hide areas of baldness.
The procedure used to create a hair tattoo is known as scalp micropigmentation. It involves tattooing thousands of tiny, layered dots on the scalp to resemble hair follicles in nature.
To mimic natural hair trimmed close to the scalp, most scalp micropigmentation techniques employ several different colours.
This kind of operation can produce remarkable and shockingly natural results when carried out by a qualified specialist.
To simulate a full head of short, buzzed hair, scalp micropigmentation is frequently employed.
It can also make the hair appear thicker and denser in areas of the scalp with a lot of thinning hair.
Scalp micropigmentation is sometimes only used to give the appearance of denser hair on a particular area of the scalp, as in the case of a hairline tattoo to hide hairline recession or a hair tattoo close to the back of the head to hide scarring from hair transplant surgery.
Moreover, scarring from skin diseases like alopecia areata or hair loss scarring is covered up with micropigmentation.
What are the benefits of Hair Tattoos?
Procedures for hair and scalp tattoos have several benefits, especially when compared to alternative treatments for hair loss. Some of these benefits include:
The appearance of full hair
Long-lasting results
Affordability
A relatively painless procedure
Improvements in perceived density
A short Recovery period
What are the risks of hair tattoos?
Below are some of the risks and potential disadvantages of Hair tattoos:
The greatest candidates for hair tattoos are those who don't mind maintaining a short buzz-cut appearance and have bald patches or are completely bald. Those who seek longer hair should not choose it.
There hasn't been enough time to investigate the long-term safety or adverse effects of hair tattoos because they're a more recent practice. Researchers have identified a few dangers thus far, but they are uncommon. They include a skin infection brought on by tattoo ink, needles, or packaging that has been contaminated or an allergic response to substances present in the synthetic colours.
The tattoo may cause discomfort or swelling during an MRI (magnetic resonance imaging) scan if the pigments contain metals. The pigments might also move to other body parts, such as your lymph nodes, but researchers are still determining if this has long-term health consequences.
How long does a hair tattoo last?
Hair tattooing lasts around eight years, although you may require a slight retouch over time as the skin naturally exfoliates itself, and the treated area may fade slightly.
Is it safe to get a hair tattoo?
For those who want longer hair, it's not a good alternative. Hair tattoos' long-term safety or adverse effects have yet to be sufficiently studied because they are a more recent treatment.
How do I choose a hairline?
Your treatment specialist can advise you if you need clarification on the hairline tattoo design that will look best on you. Your professional can assist in making the best recommendations because they have creative experience matching a hairline to a head's form and age. You can tweak and adjust the hairline throughout your sessions to achieve the perfect finish.
Does hair tattoo affect hair growth?
A hair tattoo does not alter or stimulate natural hair growth. Therefore, it is not a remedy for baldness. Also, it won't harm your current hair follicles or induce hair loss. However, making it appear like you have thicker, fuller hair is possible with a hair tattoo.
Will I regret getting a hair tattoo?
Those who get lousy hair tattoos regret it extensively since it takes a lot of time and effort to get it removed and redone. But on the other hand, people who obtain good hair tattoos don't regret getting them.
SMP Clinic Locations
Looking to get a consultation or ready to do the treatment? We have three clinics in the GTA: Toronto, Richmond Hill, and Mississauga.  Please complete the form above or call us at 647-492-9093 Trichology Centre | Hair Loss Clinic | Hair Tattoo.
In Summary
The hair tattoo procedure, called scalp micropigmentation (SMP), is reliable, secure, and safe procedure for addressing hair loss. It entails the injection of tattoo ink into the affected area of the scalp with thinning hair or a receded hairline.
Unlike hair transplant surgery, hair tattooing does not require the removal or transplantation of hair follicles, making it a more straightforward and less invasive procedure. Instead, the process creates the illusion of real hair on the scalp by adding density to the affected area.
Hairline tattoos are a popular choice among those with male pattern baldness or alopecia areata. This procedure is also an option for individuals who want to cover scars from hair transplant surgery or for those who prefer a buzz cut but want the appearance of longer hair.
Unlike traditional tattoos, hair tattoos have minimal side effects, and the ink used is specifically formulated for scalp pigmentation. The number of sessions required for the hair tattoo procedure depends on the degree of hair loss and the desired density.
With scalp micropigmentation, individuals can achieve a natural-looking, fuller head of hair without the risks associated with surgical interventions.
Comments are closed.