Hair loss is a problem that affects both men and women, young and old. It is estimated that 1 out of every 5 people in the world is in the process of losing their hair. For men, by the time they reached the age of 35, 40% are already suffering from visible hair loss. By the time they reach 60 years old, at least 65% are have lost most of their hair. For women, by the time they reached the age of 40, at least 40% see noticeable diffused hair loss. By the time they reach 60 years old, at least 80% will see noticeable hair loss.
While there are many hair loss solutions, treatments, and therapies out there, one that has not been promoted much is Scalp Massage Hair Growth Therapy.
INCREASED BLOOD FLOW TO THE SCALP STIMULATES HAIR GROWTH
It is no secret that blood flow to the scalp stimulates hair growth. Minoxidil, for example, is a direct vasodilator (opens blood vessels). It is a popular drug to treat hair loss in both men and women.
Experts are yet to fully understand how the medication stimulates hair growth, but it is known to open blood vessels and improve blood flow to the scalp, which stimulates hair growth. Minoxidil, like with many other drugs, has its side effects and is not recommended for everyone.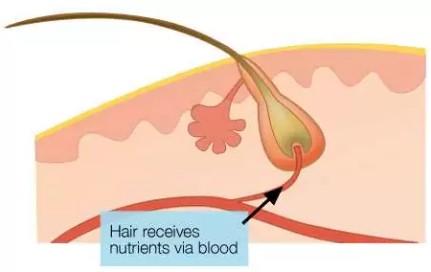 Hair follicles require nutrients and oxygen supplied by the blood capillaries. A lack of oxygen affects all cells including the cells in the hair follicles that generate the hair shafts. Increasing blood circulation to the scalp encourages hair growth and healthier hair.
CAN YOU INCREASE BLOOD FLOW TO THE SCALP WITHOUT MEDICATION?
The best way to increase blood flow to the scalp without medication is through scalp massage. A daily scalp massage increases blood circulation by dilating the very small arteries within the scalp, increasing blood flow, which provides vital oxygen and nutrients to the hair follicles and prolonging the growth cycle of hair.
In a clinical study, it was shown that men experiencing early male pattern baldness, subcutaneous blood flow (SBF) was 2.6 times lower than the values found in normal individuals.
"A reduced nutritive blood flow to the hair follicles might be a significant event in the pathogenesis of early male pattern baldness."
https://www.ncbi.nlm.nih.gov/pubmed/2715645
"In male pattern hair loss, it's not that the follicles are gone. They're just miniature follicles," says Michael Detmar, MD, associate professor of dermatology at MGH and lead author on the study. "If anyone could find a way to make the follicles bigger, men might grow hair again."
The discovery that increasing blood flow to the scalp helps stave off baldness may be old news to many barbers. For years, they have been advising clients to massage their scalps as way of stimulating circulation and hair growth.
https://www.sciencedaily.com/releases/2001/02/010215074636.htm
STRETCHING THE CELLS OF HAIR FOLLICLES STIMULATES HAIR GROWTH
Studies have shown that scalp massage can increase hair thickness by stretching the living hair follicle cells and stimulating them to produce thicker, individual hairs.
Study in the January 2016 issue of ePlasty confirms: "Standardized Scalp Massage Results in Increased Hair Thickness by Inducing Stretching Forces to Dermal Papilla Cells in the Subcutaneous Tissue. "
In this study, a 4-minute daily scalp massage using a scalp massage device for 24-weeks increased hair thickness by stretching the cells of hair follicles. This, in turn, stimulates the follicles to produce thicker hair.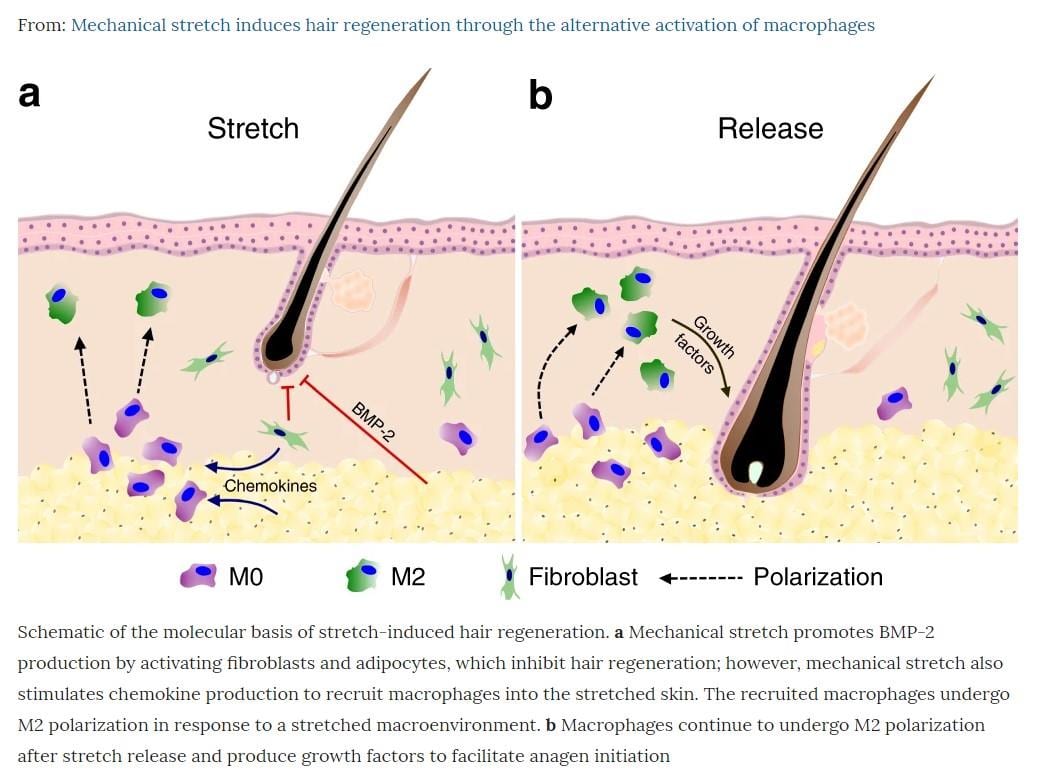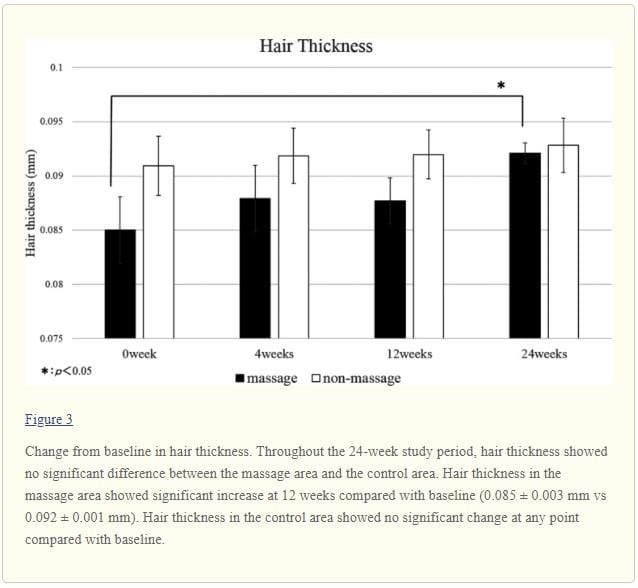 DAILY SCALP MASSAGE REDUCES STRESS RELATED HAIR LOSS
Stress and hair loss is related. Stress results in hair loss far more than most people realize. The best way to improve stress-related hair loss is to find ways to reducing and managing your stress. A daily scalp massage can decrease stress and boost your mood. Why not make it a daily habit? No only is a scalp massage good to help with hair loss, it is beneficial to your whole body. A scalp massage increases the production of serotonin, the happy chemical in your body that increases your mood.
BENEFITS OF SCALP MASSAGE
Stretching the cells of hair follicles stimulates hair growth.

Help dilate blood vessels beneath the skin, enhancing blood circulation to the scalp and stimulating hair growth.

Strengthens the roots of the hair, supplying vital nutrients and oxygen to the hair follicles.

Reduces overall stress. When the scalp is tight from stress, circulation and hair growth are impeded.

Spreads the natural oils of the hair, increasing hair vibrancy and luster.

Naturally helps lubricate and conditions the hair without harsh chemical shampoos.

Helps protect hair from damaging effects of the sun by improving resiliency over time.

Helps loosen and remove dead cells and excess sebum on the scalp, which can also hinder new hair growth.
WHAT IS THE BEST SCALP MASSAGER TO STIMULATE HAIR GROWTH?
If you are looking for the best scalp massager at the best price, we recommend one that is powerful, portable, light weight, waterproof, has a smart timer, and is affordable.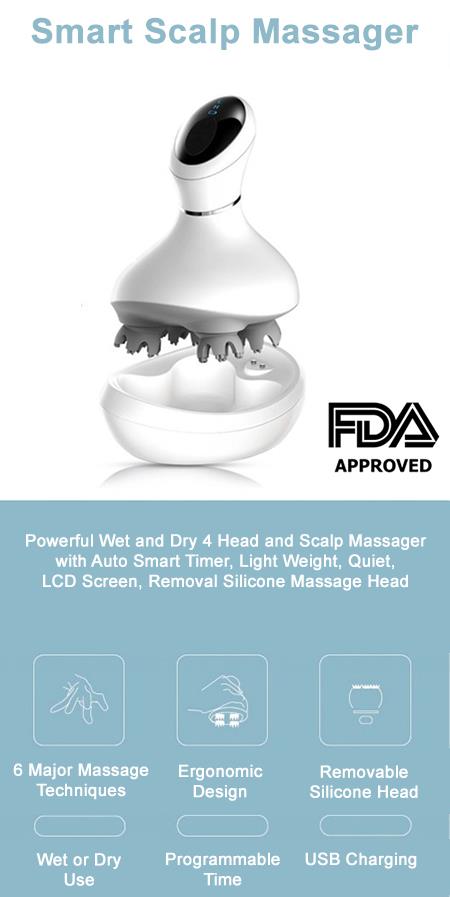 INTRODUCING THE SMART SCALP MASSAGER FOR HAIR GROWTH
POWERFUL
USB RECHARGING
WET & DRY USE
PORTABLE & LIGHTWEIGHT
6 MASSAGE SETTINGS
SMART TIMER
SAFE & QUIET USE
DOES NOT TANGLE HAIR
FDA APPROVED
Deep Scalp Massager: With 84 individual nodes and 3D Deep-Kneading, all-directional movement and kneading, perfectly fit the scalp, hand-simulation, deep and fully massage head, increases blood circulation to the scalp and stretches the cells of hair follicles to stimulate hair growth.
Smart Timer: Smart timer allows for a 10-minute massage in your shower with auto shut off, just press to restart.
Dry and Wet Use: Easy to clean and waterproof. You can enjoy
body, head, and scalp massage while showering. Four soft massage heads are removable. Convenient to clean.
Cordless and Rechargeable: Convenience with no wires. Take it to travel, on business or your office due to its mini size. Enjoy a head massage whenever you want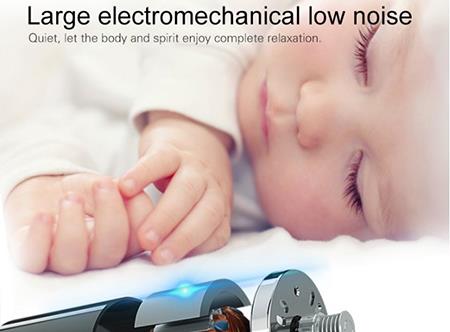 Powerful. Built-in 2200 mAH large capacity lithium-ion battery, which provide sufficient power to ensure that you can enjoy a strong yet comfortable massage experience. Full charge lasts 2 hours of massage time.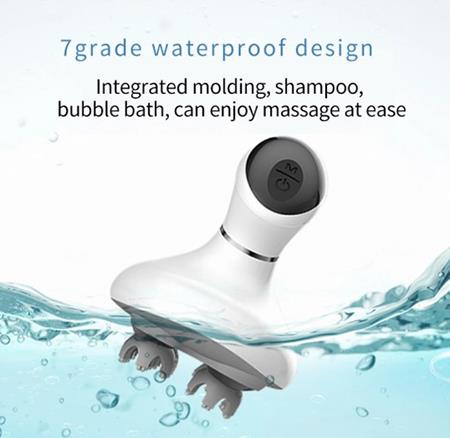 Whole Body Use: Use it for your head, scalp, neck, and anywhere on the body that needs massaging.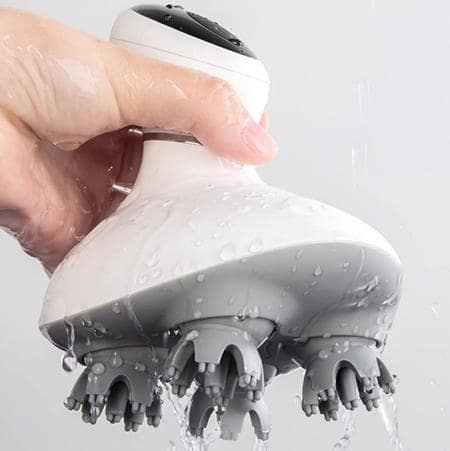 or email: https://www.paypal.com/cgi-bin/webscr?cmd=_s-xclick&hosted_button_id=6BWXSQVMYF82E
Comments are closed.