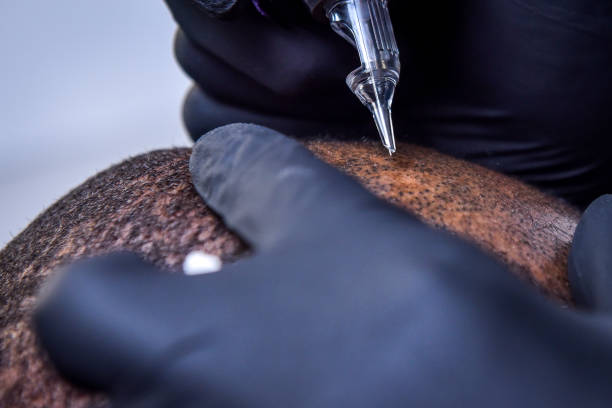 Scalp Micropigmentation Fail 
If you choose the wrong scalp Micropigmentation (SMP) clinic, you will, unfortunately, experience poor outcomes from your scalp micropigmentation. SMP is a fantastic alternative for avoiding invasive and severe hair restoration methods like hair transplants or wigs. It is a method that will conceal the signs of pattern baldness in both men and women. It is like permanent makeup to create the illusion of natural hair. SMP, commonly referred to as scalp micropigmentation, is a ground-breaking technique. When consumers experience the negative impacts of hair loss, trained professionals provide them with a solution.
During the process, pigments are applied at the epidermal level with a digitally controlled needle to mimic the appearance of a natural hairline. Scalp micropigmentation is a process comparable to tattooing hair, but significant differences set it apart from getting a tattoo the traditional way.
How to prevent getting a Scalp Micropigmentation Fail? 
Just make sure you visit a practitioner that listens to what you want and works with you on your style if you want to minimize such issues. A doctor spends a lot of time getting to know their patients' lifestyles, what they do, and what they wish from scalp micropigmentation in terms of outcomes. The only folks who genuinely regret scalp micropigmentation are typically those who went into the procedure with unrealistic expectations. So before proceeding with scalp micropigmentation, ensure you understand what it is before sitting down with the practitioner willing to explain.
Avoid at all costs utilizing any unqualified tattooists or permanent makeup artists. In comparison to traditional tattooing, the procedure of scalp micropigmentation is very different. It's a precise science that calls for a skilled hand because the needle is inserted at a variable depth, and different pigments are utilized. If it isn't done correctly, the outcomes could be severe. To reverse a flawed micropigmentation process, removing the problematic treatment with a laser is frequently required.
Therefore, that is very significant. You must have faith in the person. Before you determine whether or not it's a genuinely good alternative for you, you need to understand the service and get all your questions addressed thoroughly.
What are the possible side effects or hazards of this procedure?
Using an unlicensed or untrained practitioner who does not take the appropriate safeguards carries the most dangers while having scalp micropigmentation done.
Potential dangers include:
Response due to an allergy to cosmetic pigments.
Dirty needles brought on the infection.
Unattractive or unnatural appearance following therapy.
To avoid these risks:
Pick a certified scalp micropigmentation specialist.
Request to see examples of their prior and subsequent scalp micropigmentation procedures.
Before the operation, talk to the technician about any allergies.
You should contact your doctor if you suspect an infection following scalp micropigmentation. These symptoms could include fever, severe discomfort, significant redness, and pus.
Are you a victim of a bad Scalp Micropigmentation (SMP)/ Hair loss Clinic? 
Providing corrective and repair services to those unfortunate enough to be harmed by a subpar facility or an incompetent technician falls to the top clinics. The most urgent and crucial thing to do is STOP doing what you are doing if you have concerns about the calibre of your treatment. If your clinic exhibits inexperience, you should keep them from exacerbating the situation.
The significant scalp dangers of micropigmentation are associated with working with an unlicensed or untrained professional who might need to follow essential safety measures. Some other examples include:
Mismatched Pigment: Tattoos on the scalp or on the head that are poorly applied typically turn green or blue. The pigment used was not optimized for colorfastness or suited to the particular scalp. Accordingly, as a patient, it is part of your due diligence process to inquire about previous outcomes of the suggested pigment at your chosen clinic. You should check whether the dye produces a natural look, not to mention raw images or even speaking with a customer.
Note: If the pigment appears natural, it may fade into a green or blue colour; if not, the pigment is not particular to the scalp.
Erroneous Puncture Sizes and utilizing the Wrong Tools:  Delivering appropriate tiny follicular units into the dermis with microscopic electronic demands is necessary for effective scalp micropigmentation so that the impression produced resembles a single hair follicle. The likelihood that the SMP may go awry increases if the diameters of these follicular units are off. SMP that has been properly applied ought to blend in with actual hair strands.
What are hair tattoos?
If you're like most people, your hair conveys a lot about who you are. It's a unique quality that helps you express your style and, for some people, even makes up a big chunk of who you are. Nevertheless, losing your hair might make you feel uneasy, no matter the cause. Hair loss may make you feel like you've lost a little bit of yourself.
Tattoos that give the appearance of a complete head of hair are known as hair tattoos or scalp tattoos. Hair tattoos are made using scalp micropigmentation, which entails dotting the scalp with innumerable stacked, tiny dots that resemble hair follicles.
There are several options available if you've looked into hair loss remedies. Some treatments and products claim they may regrow a full head of hair in only a few short weeks. Sadly, many of these techniques rarely fulfill their claims.
FAQs 
What are the cons of scalp Micropigmentation?
Having SMP only has two genuine drawbacks, both related to the method. The first is the experience of getting a tattoo on your scalp, and the second is the little inconvenience of aftercare during the week after your surgery.
How long does the treatment last? 
Scalp micropigmentation typically lasts four years or longer before losing its appearance. Permanent cosmetic pigments are utilized in scalp micropigmentation. They resist fading and colour change since they are different from tattoo ink.
Does Scalp Micropigmentation Fade?
Scalp micropigmentation does indeed fade. However, you can get a touch-up because since it is like tattoo ink, it will interact with your cells and fade with time.
Conclusion 
Scalp Micropigmentation can look great if done by a professional. However, beware of places offering SMP who need to gain the skills or experience to do a proper job. Therefore, reading client reviews is one of the most important things you should do before selecting a healthcare provider. Make all the necessary inquiries and gather all the data regarding the process.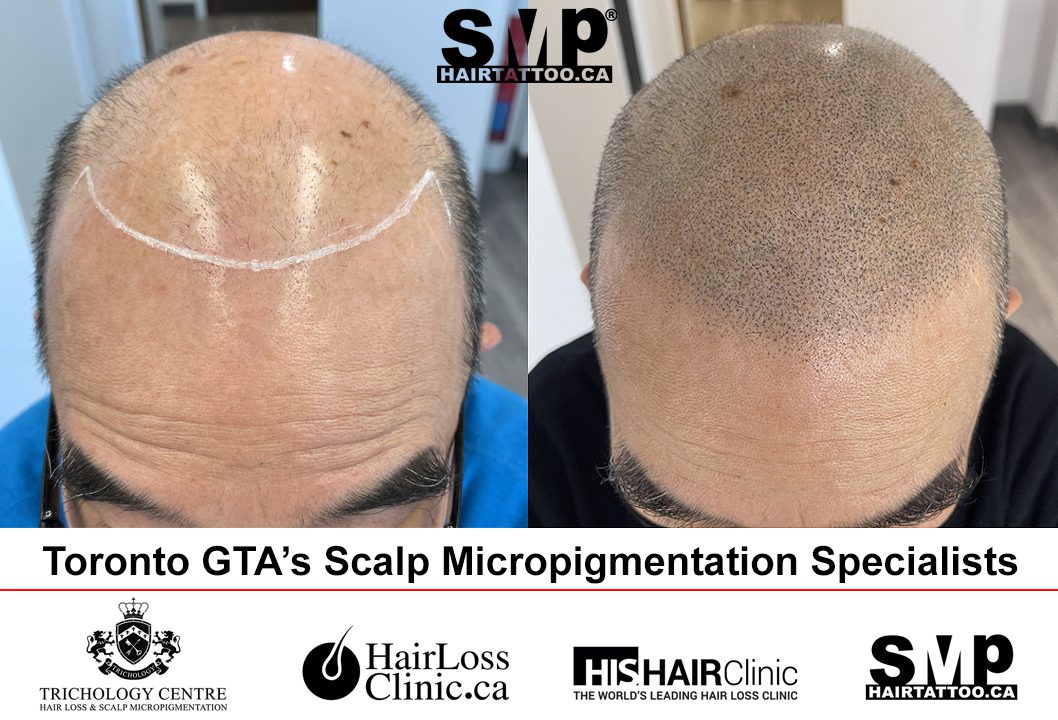 Comments are closed.